Your Guide on How to Market Your Self Storage Facility: Eight Strategies to Fill Those Units!
These days it's not enough to simply start a self storage business. You have to know how to market it. This guide will show you how it's done.
Knowing Where to Allocate Your Resources
Bigger storage businesses can dedicate plenty of money and resources to marketing, but you don't have that luxury as a small self storage business owner. So, before investing in any marketing strategy, consider how much you want to spend, what skills you can confidently contribute, and how long you're willing to wait for results.
To help you out, we've compiled a list of eight popular ways to market your business and have included a key at the bottom of each activity, showing you the cost, skill, and time to see results. By using this low to high scale, you can be prepared for the commitment involved.
Eight Ways to Market Your Self Storage Business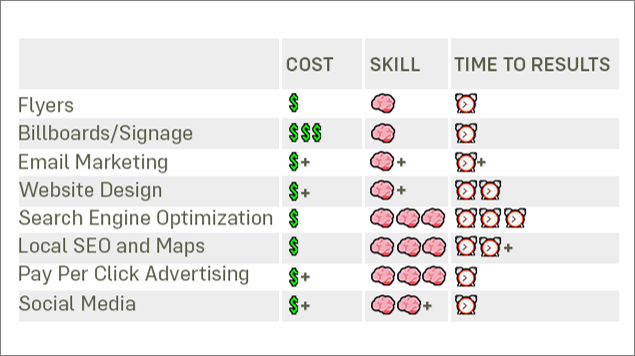 1. Flyers
Sometimes the most obvious approach is the most effective. For example, creating and distributing flyers is a great way to advertise your self storage business. Simple, affordable, and trustworthy, a well-designed flyer engages on a physical level. To help you create a beautiful one to boost your business, consider the following tips:
Use space effectively. Don't let your flyer get crowded or messy. The best design puts in loads of content but still looks clean, balanced, and minimal.
Grab their attention with a trio of bold elements - a prominent visual image, an eye-catching headline (with a legible but strong font), and a colorful element.
Connect them to your digital world. Drive your audience online for more information about your business. Remember to provide a web address and social media links.
Distribute the flyers. Consider sending them to local realtors, landscaping companies, construction companies, or other businesses that would have storage needs. Make sure you have them available at your facility when someone stops by. Realtor boxes can also be a great way to keep them right on site and safe in the weather even when you can't be there.
Cost: 💲 Low (It'll take paper, printing, and maybe a designer.)
Skill: 🧠 Novice to Proficient (It depends on your artistry level or access to a designer.)
Time to results: ⏰ Fast (If displayed or distributed right, you are likely to get a response quickly.)
2. Billboards (Off-Site) or Signage at Your Property
People spend a lot of time in their cars. A highly cited car study on how much we drive and what we do when driving points out that 70% of consumers surveyed read the messages on roadside signage like billboards or yard signs. 37% of those reported looking at an outdoor ad every time they pass one.
Even more revealing is that:
56% remembered a funny billboard message and discussed it with someone they knew

26% noted a phone number listed on the billboard

28% noted a website address as well
The last two numbers may not be big but could lead to new clients for you. Billboard advertising has the potential to be an effective marketing option for your business. Many owners even erect their own billboard on their property or get permission to display it from a nearby lot or farm owner.
Depending on your location, according to fitsmallbusiness.com, a paid billboard can cost on average:

Cost: 💲💲💲 High (You'll pay not only a monthly fee but also additional costs for design.)
Skill: 🧠 Beginner (The experts do most of the work, but you'll need to drive the message.)
Time to results: ⏰ Fast (The stats say that people take notice of billboards.)
3. Email Marketing
Email marketing involves sending a commercial email to a list of your "subscribers." Subscribers are those people who have signed up in one form or another and have given permission to receive communication from you via email.
It's a great way to inform your current customers and potential customers and an efficient way to deliver a personal message right to their inbox.
Email marketing can drive sales and increase rental activity by advertising incentives and offers as well as by providing a way to ask for referrals for new business.
A customized approach to email marketing focuses on personalization instead of a one-size-fits-all message. Many businesses use an affordable email service provider to pull this off. It's a software platform that helps manage your campaigns by creating targeted emails to groups that you specify.
Some ideas for email content could be:
News about your services

Shareable articles of local interest

Facility promotions like coupons

Staff updates and new facility features
Keep in mind your objective when sending out your email. Remember to guide your audience to take a desired action like visiting your website, making a referral, or reviewing a new service option.
Cost: 💲+ Low to Medium (You could use your current email platform without buying an email service, but it takes a lot of setup and is much less efficient. An email service is a cost-effective option to consider.)
Skill: 🧠+ Advanced Beginner (Writing a message that isn't received as spam takes knowing your audience and knowing how to write and design an intriguing email campaign.)
Time to results: ⏰+ Fast to Medium (If done well, you could see results as quickly as it takes to hit reply.)
4. Website Design

Your website is a digital peek into your business. Without it, you're at a big disadvantage. Lucky for you, it is becoming more accessible and easier to have a custom website, especially for a self storage business.
It can't be beaten as a means to market your business. It's a crucial part of the overall feel and offers your potential clients and current clients a peek into what to expect at your facility.
Website design elements that make the experience user-friendly are:
Easy site navigation

Well-written, skimmable subtitles and text

Quality images of your site and units

Professionally-shot videos that show exactly what they can expect
With the right platform, you can offer your customers a simple way to:
View available units

Sign up or renew a lease online

Pay monthly rent and/or fees

Communicate quickly with you
When choosing a website platform, keep in mind that it can heavily influence a potential customer's decision to use you or go to your competitor.
Cost: 💲+ Low to Medium (Look for self storage management software that offers a custom website within the platform, and you won't have additional costs. If you instead create an independent website, it could end up costing a bit more.)
Skill: 🧠+ Advanced Beginner to Expert (Designing a website can be done for you, which means minimal effort for you. If you choose to set it up on your own and offer many web pages within it, you'll need to know how to work with your chosen website platform.)
Time to results: ⏰⏰ Medium (A website tends to deliver ongoing results that often trickle in at different rates.)
5. SEO
Search engine optimization (SEO) helps your website rank and get found by targeting keywords that your customers use to find businesses like yours within a search engine like Google. It's a technique available to anyone who owns a website, but it takes some time to learn best practices and implement them.
SEO can be broken down into two areas: on-site and off-site.
On-site best practices include the effective use of keywords within your website content and the more technical elements of your site. These include:
Search engine results page (SERP) title

SERP description

Universal resource locator (URL)

On-site links

H1 or your main title

Webpage loading speed

Security certificate (secure socket layer or HTTPS)

ADA compliance

301 Redirects
Off-site SEO best practices are all about credible connections to your website. These are called backlinks. Having other sites reference your site tells Google how popular you are within your industry. Backlinks show the type of audience that respects you and your connections.
Earning relevant backlinks can positively affect your site's ranking position or search visibility. You can build backlinks by:
Guest blogging on a site where you are considered an expert

Being active on social media and leaving thoughtful, engaging comments

Listing your business on relevant web directories

Including a website link in your email signature

Offering to write a testimonial on a site you admire (Don't forget to leave your name and business!)

Writing great, shareable content on your website blog
Cost: 💲 Low (It's free!)
Skill: 🧠🧠🧠 Competent to Expert (It takes some expertise to set up and regularly analyze your rankings to improve them.)
Time to results: ⏰⏰⏰ Slow (On average, you won't see the results of your efforts for six months minimum.)
6. Local SEO & Maps Optimization
The above SEO focuses on increasing your site's visibility to anyone independent of the location. Local SEO is exactly as it sounds as it allows you to target a search territory that is local to your business. Many of the same strategies still apply, but there are particular local SEO actions you can take that helps attract a local audience.
Local SEO means including the name of your town or city, county, and/or state as part of your primary keyword phrase. For example, the main title of a homepage that was targeting the county of Dane would say Dane County's Only Climate Controlled Self Storage Facility.
In addition to using locally focused keywords, utilizing the map pack on the search engine results page is a very smart move to attract local viewers. For example, wouldn't you like to see your business name, phone, hours, directions, etc., like the one below that, comes up when searching for "self storage facility near Sparta, Wisconsin."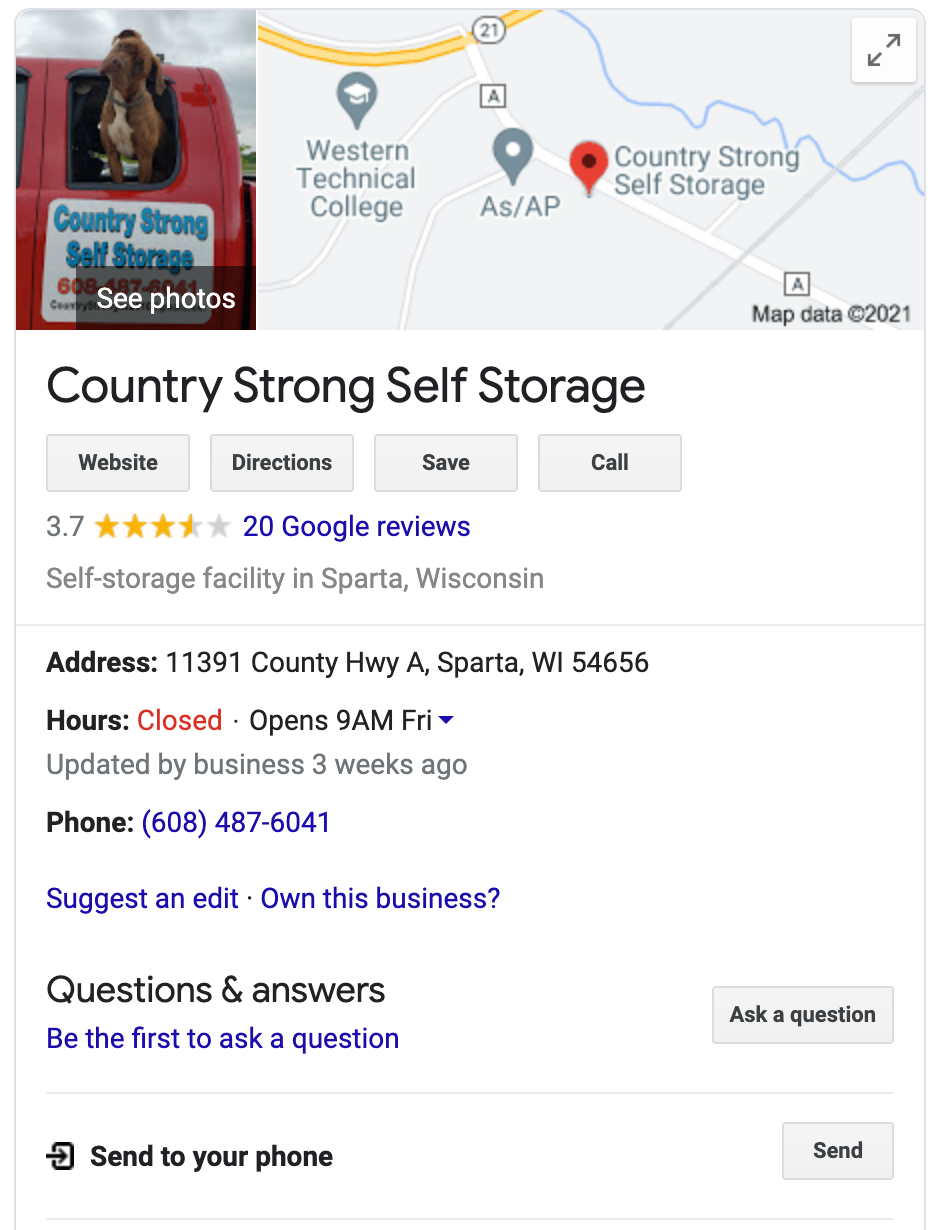 Your business can get found like the one above by:
Listing your business on

Google My Business

and

Bing Places

.

Making sure your online information is up to date

Listing your business on other relevant business directories, too (try Onlineselfstoragedirectory.com)
Cost: 💲 Low (Using Google and Bing maps is free, but there may be costs associated with other directories.)
Skill: 🧠🧠🧠 Competent to Expert (Just like regular SEO, it takes some knowledge to set up and keep updated.)
Time to results: ⏰⏰+ Medium to slow (Because it's more targeted, you'll see results faster, but it still takes some time to generate higher rankings on your website.)
7. Pay Per Click (PPC) Advertising
Google Ads and Bing Ads, or what's referred to as PPC advertising, represent a way to reconnect or remarket with those people who have previously interacted with your website.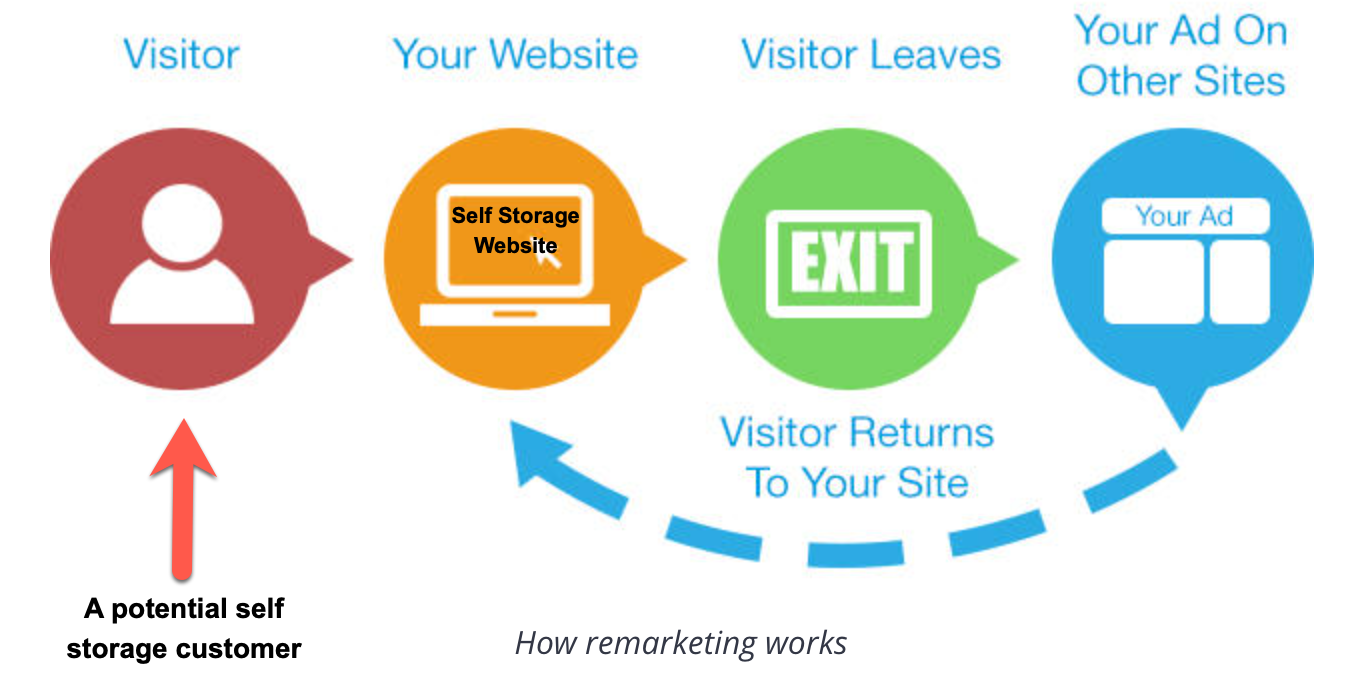 Costs for Google Ads vary depending on the keyword or phrase you are targeting. In the self storage industry, search ads can cost several dollars or more per click.
The graphic below is a recent screenshot of current Google Ad bids for popular self storage industry keywords.

It should also be noted that there is a steep learning curve to master the art of remarketing. In fact, some people make a profession out of it. Google offers classes and certifications in it. If not done strategically, you could even lose money on it.
Cost: 💲+ Low to High (As the name says, you pay per click so, it depends on keyword cost and how many clicks you get.)
Skill: 🧠🧠🧠 Proficient (It's not an easy skill to master.)
Time to results: ⏰ Fast (If done right, you can see facility inquiries quickly as a result.)
8. Social Media
The benefits of social media for your business depend on your approach. Just having an account with some occasional activity probably won't cut it. If, however, you use it as a way to communicate with your customers, they'll more than likely follow you to keep updated.
Many self storage social media groups offer a friendly place to become a part of as long as your sole purpose isn't to sell. You could be met with some hostility if you post an advertisement during an online group conversation. Instead, it would help if you approached it as more like market research and building a community.
If you want to sell on social media, Facebook offers paid advertising that allows you to specify your desired demographic. Your ads will be seen by people that fit your ideal customer image like:
Older people who may be downsizing

College students who are between places

People who have recently experienced a change in personal circumstances like divorce, job change, or even a new baby
Review Facebook's guide to advertising on their platform for more details on how it all works, and check out their Marketplace section to tap into current online demand. Look into markets outside of Facebook, too, like Craigslist, to promote your storage facility.
Cost: 💲+ Low to Medium (A business account on Facebook is free, but you will have to pay for advertising. Luckily, it is a fairly economical way to boost your posts or get your offers in front of a target audience.)
Skill: 🧠🧠+ Competent to Expert (This is another "depends" situation because the effort to boost a post is much lower than the effort needed to research, write and design a Facebook ad.)
Time to results: ⏰ Fast (With social media, you get in front of your audience quickly, and as long as you choose the right audience, it's highly likely some will act on your offer.)
The Best Marketing Connects with Your Customers
The activities above are some great ways to market your business. But, don't forget about some of the other low-hanging marketing options available to you, like being part of the community where your business is located. Joining local organizations like the chamber of commerce or Rotary club or even sponsoring a local little league team will create connections that will get you and your business known.
However, ultimately, the service you offer the customers you already have will be your number one marketing tool. It is a commitment that takes less work, is more cost-effective, and leads to real results faster than any other strategy. With it, you'll receive excellent recommendations, referrals, and repeat business. For all your marketing efforts, that's pure gold!
Make more time for marketing and spend less time managing your self storage business with Unit Trac. Unit Trac is the affordable, cloud-based self storage management software designed by self storage owners like you. Call (800) 204-1681 today for more information.