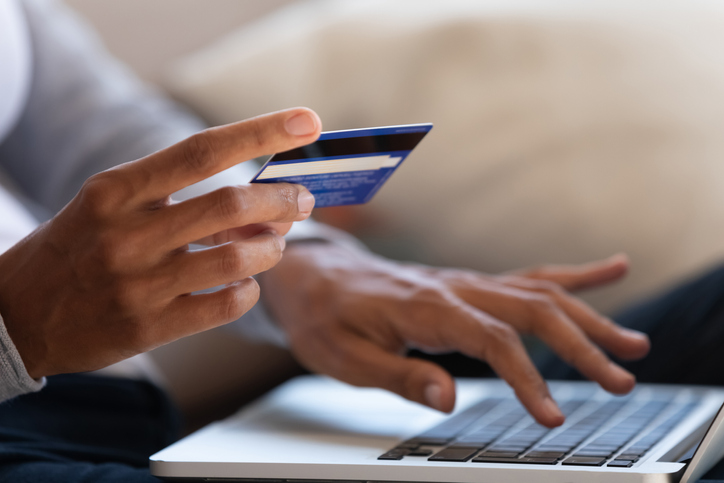 How Integrating Credit Card Processing Can Help Grow Your Self Storage Business
Operating a self storage facility means you're involved in everything from cleaning units to managing the books. However, out of the many tasks to complete, collecting rent is the most critical and time-consuming one you need to accomplish to keep the business going.
Luckily, these days you have many payment options to choose from to get the job done, including accepting credit cards.
Credit card processing is fast, simple, and easy enough for most self storage renters to handle. Even better, those renters set up for auto-charge payments don't have to remember to pay their rent each month, which decreases the amount of time an owner spends chasing payments.
84% of Consumers Can't Be Wrong
According to a recent report from Fiserv, an online bill payment provider, a majority of consumers want options when paying bills and that includes using credit cards.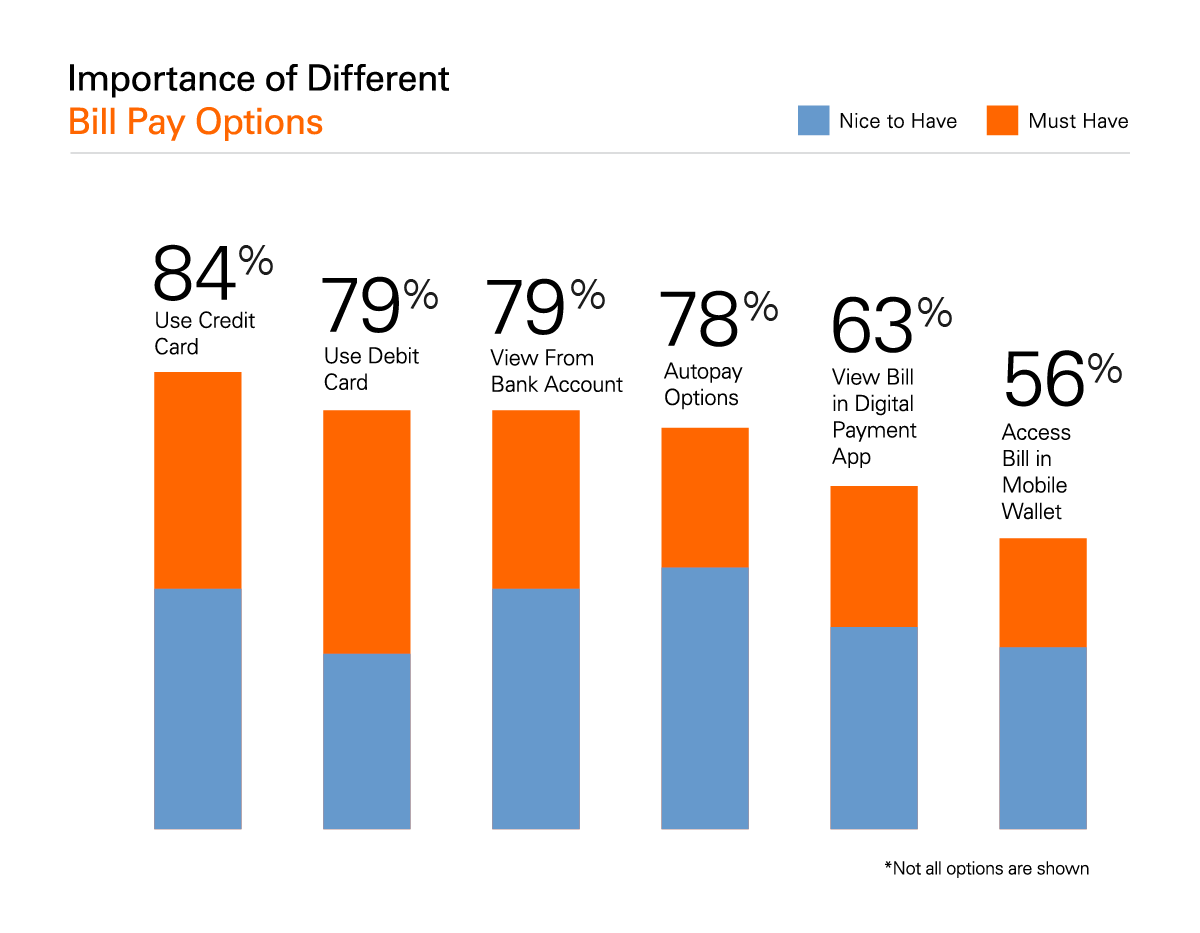 Most consumers want the option to pay their bills by credit card

Of those payments listed, credit cards offer the most benefit to the consumer, including:
Convenience

: Setting up monthly bills to be paid with a credit card means only one account to pay at the end of every month.

Security:

Credit cards come with encryption, chip, and pin technology that keeps them secure, and they also offer zero fraud liability policies.

Rewards:

With most credit cards, consumers earn points, miles, or cash back for each dollar they spend.

Tracking:

Monthly bill payments can be viewed on one statement to help track what's been paid and when.

Timeliness:

Consumers who set up automatic bill pay can relax, knowing bills will be paid on time with no late fees.
Credit Cards vs. Cash or Check
The conveniences go beyond just consumers, though. As long as you plan for any fees or transaction costs, credit cards offer an overall better way to collect rent.
By accepting credit cards as your primary payment method, you lessen the headaches of the two other most popular forms of rent payment: checks or cash.
When offering all three forms of payment you'll want to keep in mind that:
Checks

offer a method of payment some renters are in the habit of using to pay bills. They take time

to clear, and there is a risk of insufficient funds.

Cash

is preferred by some renters but you'll need plenty of change, and having a lot of money on hand puts you at greater risk for theft.

Credit cards

come with fees but offer faster payments, create a secure transaction history, and are key to providing online service.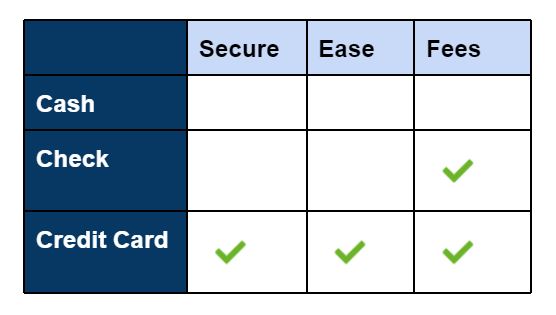 Because of the hassles mentioned above, many self storage facility owners are already allowing renters to pay by credit card. They've found the benefits have outweighed the cost.
Using Credit Cards in Self Storage
Mandy and Sean Keller, co-owners of Castleton Self Storage, located in Castleton, Vermont, are good examples of owners who saw the advantages of accepting credit cards for their business. They knew that credit card payments would be something their customers would want and built it into their business plan.
Even though the Kellers were accepting credit card payments, they still had a problem. They were getting bogged down with the effort it took to process them one-by-one every month.
"We were managing everything manually," Mandy said. "Credit cards were run individually, and I had to schedule times to meet folks who wanted to pay in person. Since I don't maintain office hours, this became increasingly difficult."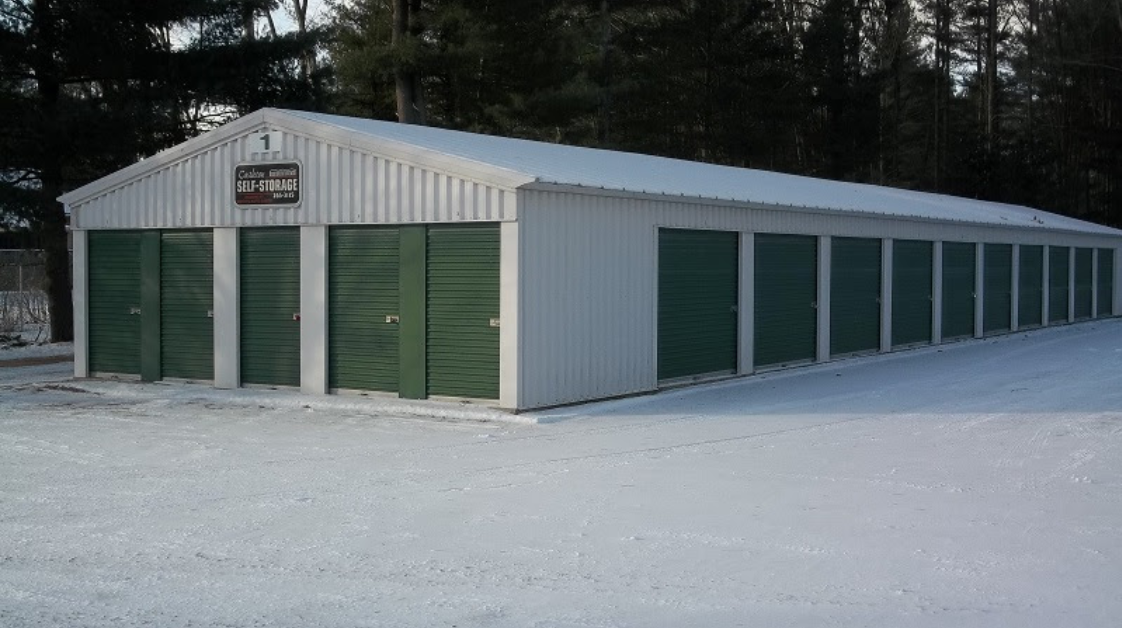 Castleton Self Storage is owned and operated by Mandy and Sean Keller
They started looking into self storage management software that would offer an online payment option and include the ability to set up recurring (automatic) payments.
Auto Payments Made All The Difference
One of the first online systems that caught Mandy's eye was the cloud-based management software developed by Unit Trac. It offered an integrated credit/debit card processing feature that enabled a small self storage facility like theirs to set either a one-time charge or a recurring (auto) payment all online.
With an online system, the Kellers felt they would save themselves time and make it easier for renters to pay. It was a direction that paid off.
The couple not only freed up a lot of the time they were spending on collecting rents and past-due payments but by requiring renters to use autopay, they were ensured they would get paid every month with a deposit directly into their business account.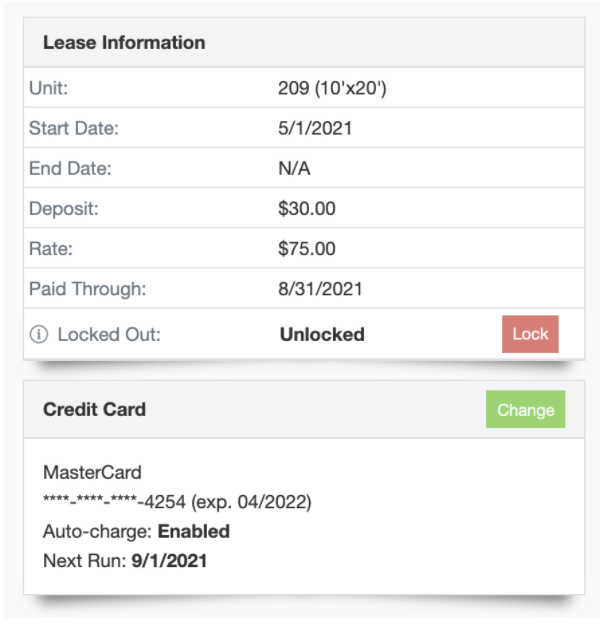 Unit Trac shows you upcoming charges, charges that failed, and transfers to your bank account. It also protects self storage owners from fraudulent charges by monitoring activity and sending a notification if a suspicious transaction occurs.
Make it Easy on Yourself
Most new self storage owners know that the business will come with some hassles. Still, accepting credit cards and embracing automatic payments can reduce the work involved and lower stress.
It's almost always a win-win for businesses and renters alike. In fact, once self storage businesses add credit card processing, they rarely, if ever, look back.
The Kellers are proof of this. Today, they have 100% buy-in to their payment system. All of their clients make their payments online, and new clients set up recurring payments at the same time they sign their lease.