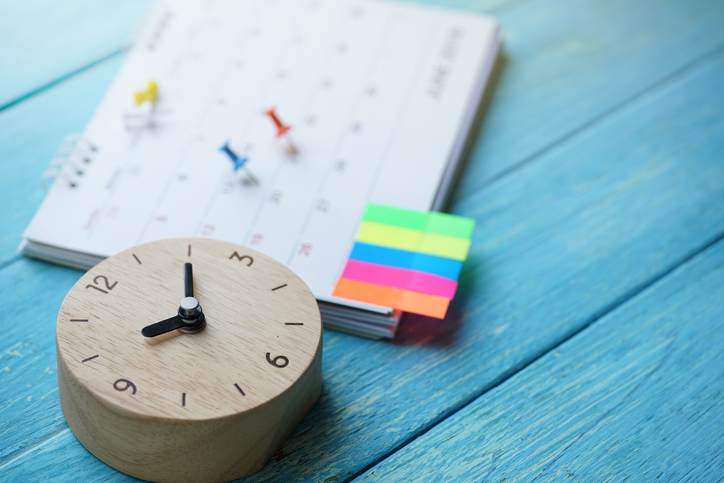 Self Storage Daily Operations: How Much Time Does it Take?
Like any business owner, self storage owners work hard. But how hard they actually work and how many hours per week they really need to work might surprise you.
Some of the time management challenges a self storage owner faces include:
Managing renter relationships

Office and administration requirements

Marketing and sales efforts

Facility and grounds maintenance
Each challenge presents a list of mini-tasks that can quickly take over any given day. Improving your chances of staying ahead starts with knowing what to expect.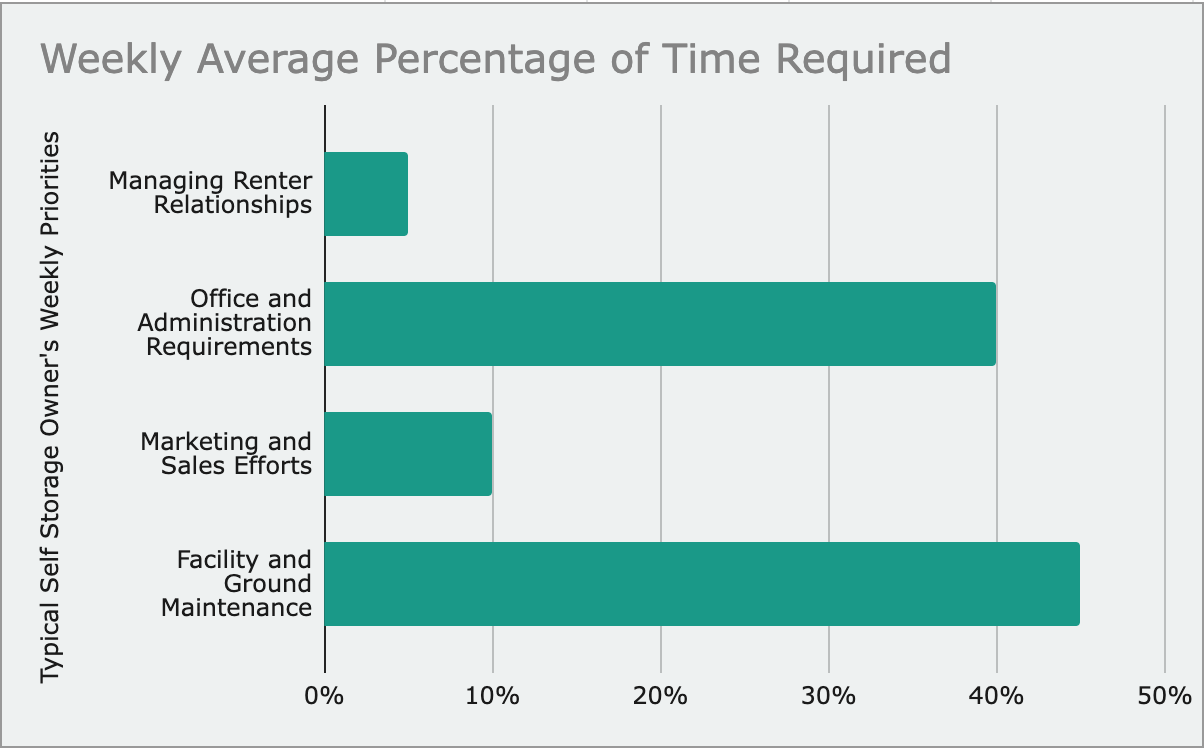 Your weekly average of time spent on your business can vary depending on several factors but using a percentage gives you a good idea of the time it could take
On average for a mid-size facility (50 to 500 units), you can expect a weekly total of as few as 5 hours but up to 50 hours per week. However, estimating time spent on each activity is best represented through percentages because priorities may change based on location, units, and competition.
The following list of a typical self storage owner's priorities will give you insight into the time it takes.
Managing Renter Relationships
Average % of Time Spent per Week: 5%
Managing existing, new or potential renters will be one of the most important aspects of the job. As the public-facing part of the business, attitude towards the renter makes an impression that lasts and establishes your reputation. Keep that in mind when you are:
Assisting Existing Renters: A critical part of the day is helping existing renters. Even if they've been with you for years, new needs come up. It's essential to be there to meet them.
Assisting New Renters: New renters want guidance on how to pay rent and set up their unit, and have specific inquiries on how your facility operates. The time for this can change dramatically for a new facility or for a new building added to a facility.
Assisting Potential Renters: Potential renters need more hands-on care. They'll want to physically see the facility and ask more general questions about hours, unit sizes, prices, etc. Being friendly and helpful will go a long way in their decision to rent with you.
Collecting Renter Payments: Collecting rent and sending late payment notices is essential in keeping the business running. That means communicating with renters and keeping their data in order is a must-do weekly (sometimes daily) task.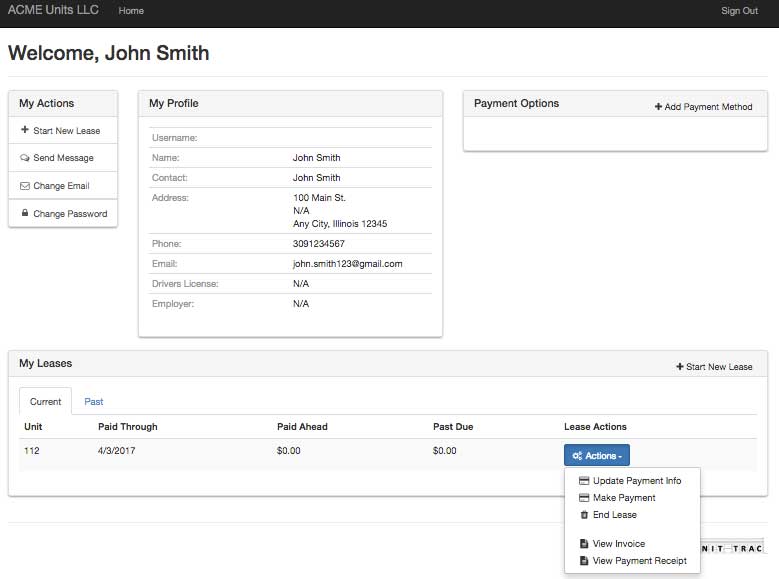 Make it easy for your renters to make a payment by offering an online customer portal on your website like the one the Unit Trac self storage management platform provides
Office and Administration Requirements
Average % of Time Spent per Week: 40%
A self storage "office" doesn't necessarily have to be an on-site building. Many owners have an office in their homes, and some even use their cars.
Wherever that office happens to be, it is the heart of the business and is where the majority of your time is spent so remember to:
Set office hours: Setting regular office hours will allow you to make time to manage facility operating expenses and be regularly available for renters.
Examples of operating expenses include things like:
Loan and insurance payments

Utilities and building upkeep

Management software

Grounds maintenance
On-call access: As an owner, you're on call when the facility or customers need you, sometimes even in the middle of the night. You'll need to factor that in, but fortunately, it's a rare event.
Make time for administrative work: This involves processes like bank reconciliation, inventory management, payroll, taxes, recording payments, invoicing, and insurance payments just to name a few essentials. This can be a big part of your day, but whether you approach these tasks digitally or manually will impact how much that actually is.
For more information on what's required on the administrative side of a self storage business, contact your local Self Storage Association.
Marketing and Sales Efforts
Average % of Time Spent per Week: 10%
Marketing and sales take on many forms and always aim to maintain or increase your facility's occupancy.
The essence of your marketing efforts is local awareness. So to make things easier on yourself, pick a good location that is well designed and visible from the main thoroughfare, or have advertising in a location that is.
Beyond that, you can find ways to market your self storage business that aren't expensive. Here are a few ideas:
Building and road signage: A well-designed sign positioned in a prominent spot can go a long way in attracting new renters.


Flyers and brochures: Sending flyers or brochures out into the community is an effective way to advertise. Also, have them available when a potential renter stops by.

User-friendly website:

With the right platform, you can offer renters a simple way to sign up or renew a lease online, pay rent, and communicate quickly with you.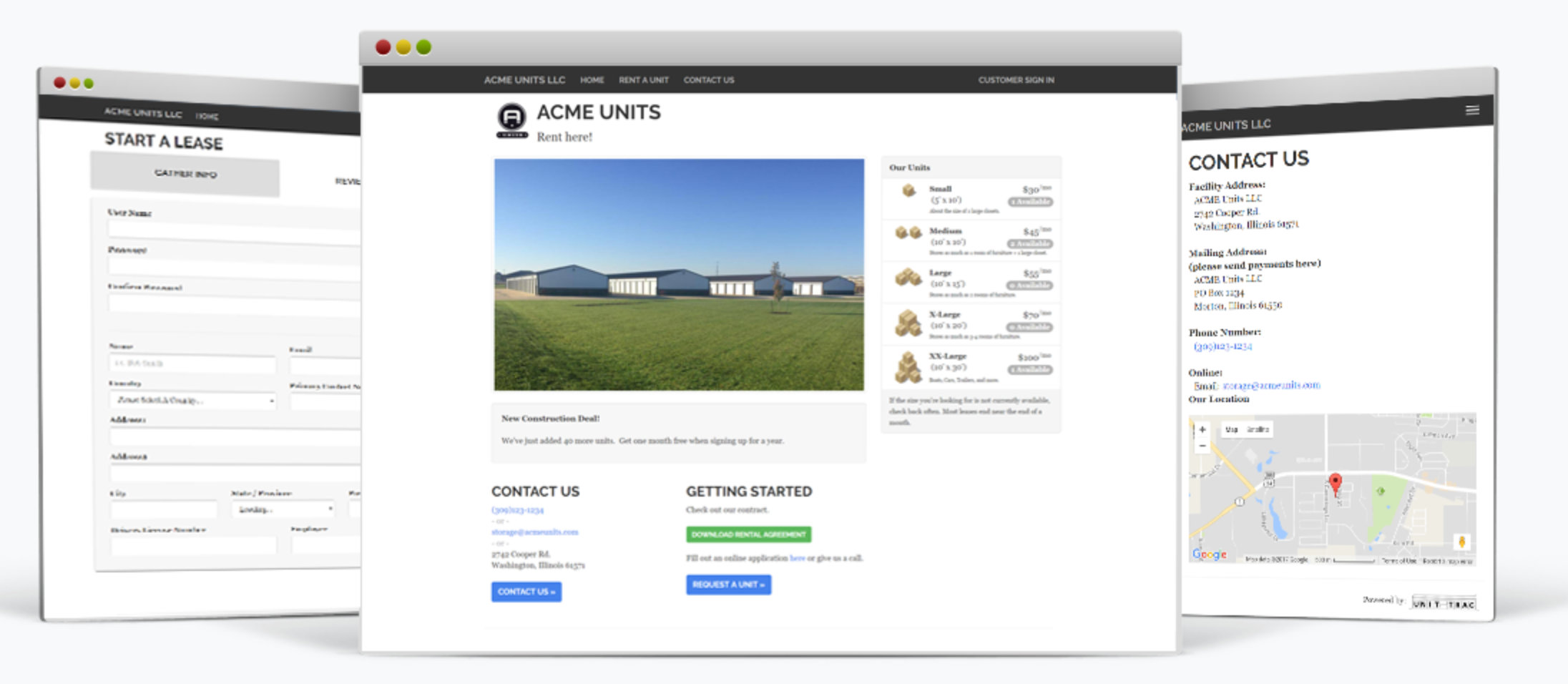 When choosing a website platform, keep in mind that it can heavily influence a potential customer's decision to use you or go to your competitor
Beyond marketing: Aligning your marketing efforts to secure sales takes more than flyers or a website. Securing a sale means meeting the needs of the renters in your area. It also means keeping your renters happy so they stay for the long term. You can do this by:
Focusing on your current renters (see renter relationships above)

Targeting your efforts to prospects with similar profiles to current renters

Having a customer service focus that proves you're able and willing to be of service
The hours could be higher for this depending on the competition in the area.
Facility and Ground Maintenance
Average % of Time Spent per Week: 45%
Maintaining your facility's buildings and units is the best way to keep your business running smoothly and ensure your investment's security. Using a daily checklist is a great way to make sure you're on top of it. Your list should include:
Interior hallways and doors

Security equipment

Roofing and gutters

Intercoms and other amenities
Ground Maintenance and Repair: The curb appeal of your facility is essential in keeping the renters you have happy and attracting new business. The exterior facade should be maintained regularly, including:
Doors and windows

Driveways and parking areas

Fencing and entry gates

Landscaping and snow removal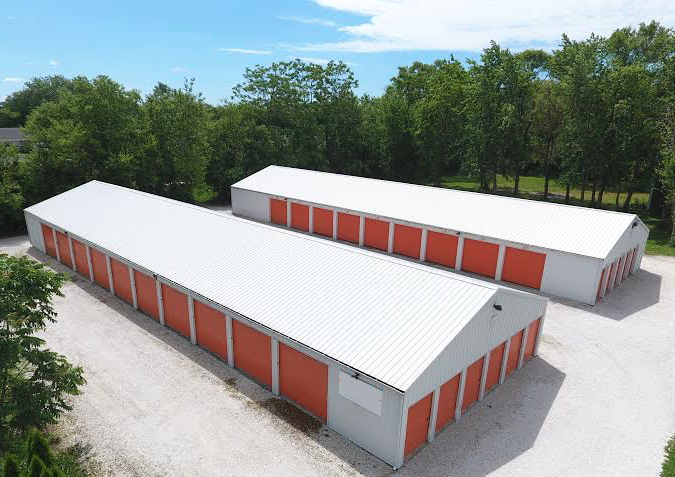 Whether you have 100 units or 1,000 units upkeep is key to attracting new renters and to keeping the ones you have
You'll also have a few surprises that come up, like pest removal, building repairs, or even dealing with security issues. There will be days when your "to-do" list just seems to get longer and longer.
The assumption on hours here is it's a mid-aged, outdoor-only facility in good condition with a large hard surface area and not much grass.
Optimize Your Time
At its core, self storage ownership comes with a list of inherent risks and responsibilities and can be highly time-consuming. However, now that you know what time is involved, you can plan your approach.
Creating an organized system, delegating or outsourcing tasks, and incorporating a reliable cloud-based self storage management tool that helps address the time it takes to operate a facility are great places to start.
Once your plan is in place, you'll be left with more time to focus on growing your business rather than just getting through the day.