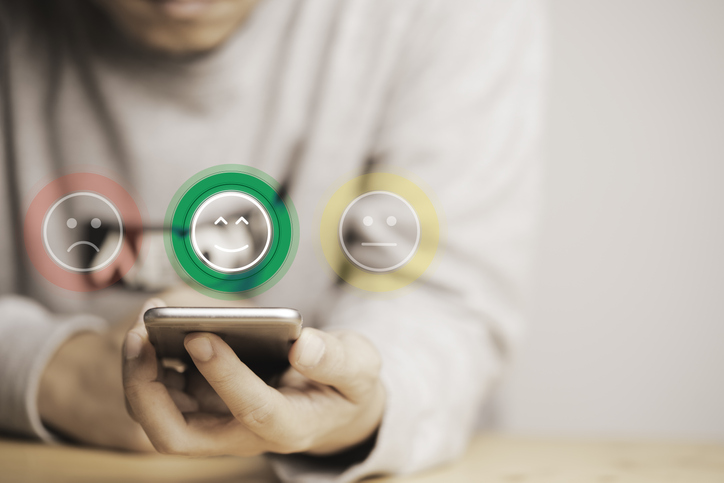 Why Self Storage Customer Reviews Matter and How Google My Business Can Help
Relying on word-of-mouth advertising is how many small to mid-size self storage businesses fill units with loyal customers. But in today's hyper-digital world, it's not always enough.
In this post, you'll see how creating an online presence and initiating great customer reviews can play an essential role in the success of your business. We'll show you why reviews matter, how other self storage owners are taking advantage of them, and what to do to get started.
Why Online Reviews Matter
Online reviews play a huge role in consumer action. According to a 2020 survey:
91% of people regularly or occasionally read online reviews

84% of consumers relied on online reviews as much as personal endorsement

68% percent formed an opinion after reading between one and six online reviews
The self storage industry is no exception to that influence. Online reviews directly affect your customer's choice to select you or your competition by impacting:
1. Customer confidence – Online reviews can help build your reputation as a dependable and responsible source for self storage, which is critical in gaining trust and confidence in your business.
2. Customer loyalty - A positive online review reinforces your current customers' beliefs that they made the right choice. Negative reviews mean they might second-guess themselves and look for a facility with better reviews.
3. Customer satisfaction - In self storage, positive reviews not only incentivize your tenants to remain at your facility but can inspire them to purchase additional services — boosting your bottom line and their overall satisfaction.
Just like when searching for other items or services, potential self storage renters look to Google to find a facility near them.
When they do, they'll see stars and ratings beside each found search result showing what other customers think about those businesses. It's a visual that can be very persuasive.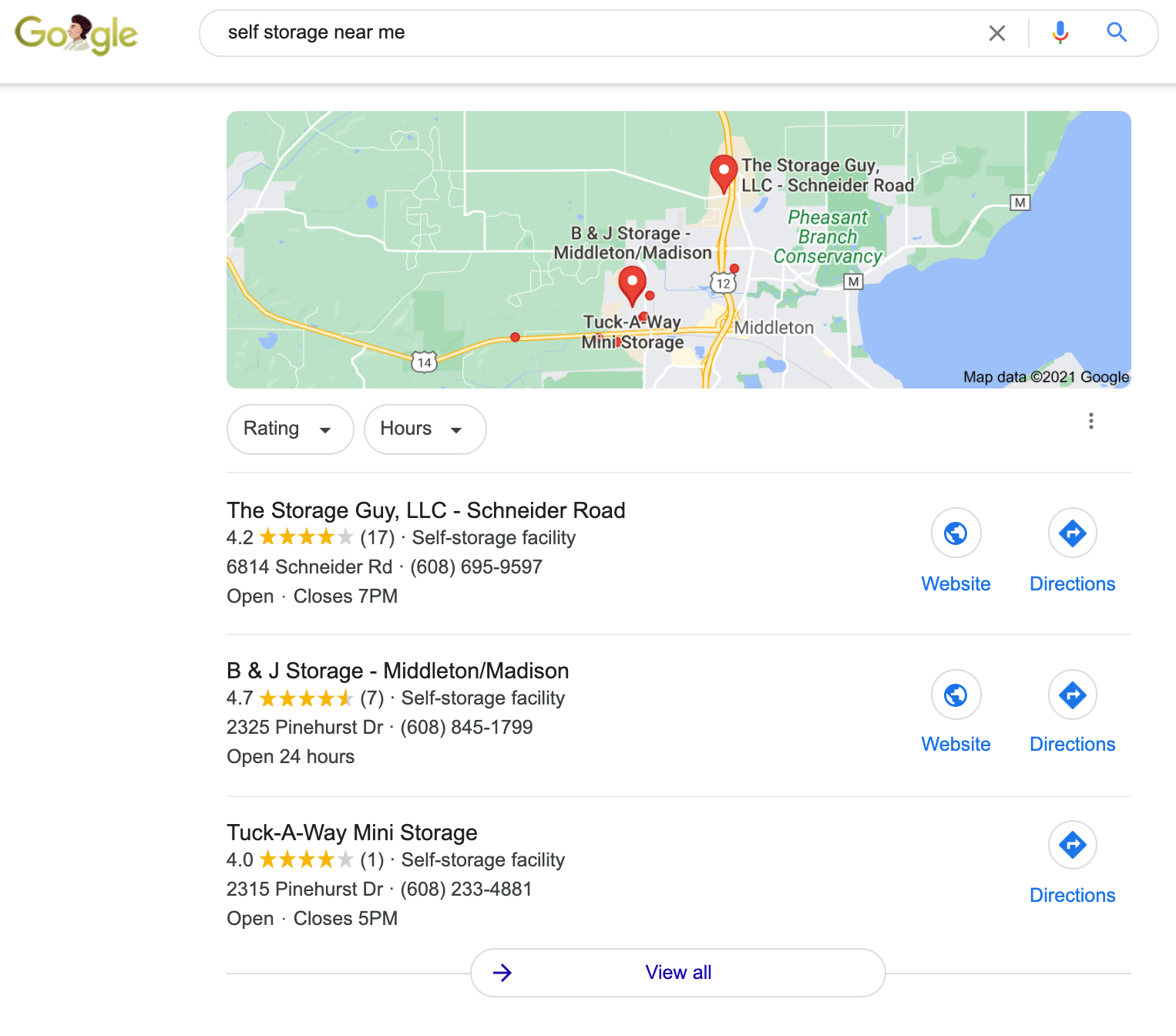 A Google search for "self storage near me" shows the closest facilities to your location and displays a star rating based on customer reviews.
According to local search experts, 73% of consumers trust and are therefore more likely to use a local business more if it has positive reviews, whereas negative reviews can drive away up to 40% of potential new customers.
Self Storage Owners Use Google My Business
Google My Business (GMB) is Google's free web directory tool that is key to harnessing the power of those Google reviews.
When a person searches for your business on Google, the information used in your My Business profile will be pulled from your Google My Business page and shown on the search results page.
The information that appears in the Business Profile on Google will be shown on Google Maps too, either when users make a search using relevant keywords or are looking for specific information about your business.
For example, when searching for "self storage facility in Pendleton, S.C." on Google, the results shown come from a Google My Business page.
Because Fort Knox Climate Storage, located in Pendleton, S.C., listed their business in Google My Business, it was found in the search on Google Maps, Google's Sidebar, and Google's Local Results. This makes it super easy to search for them and gives a quick way for prospective customers to interact.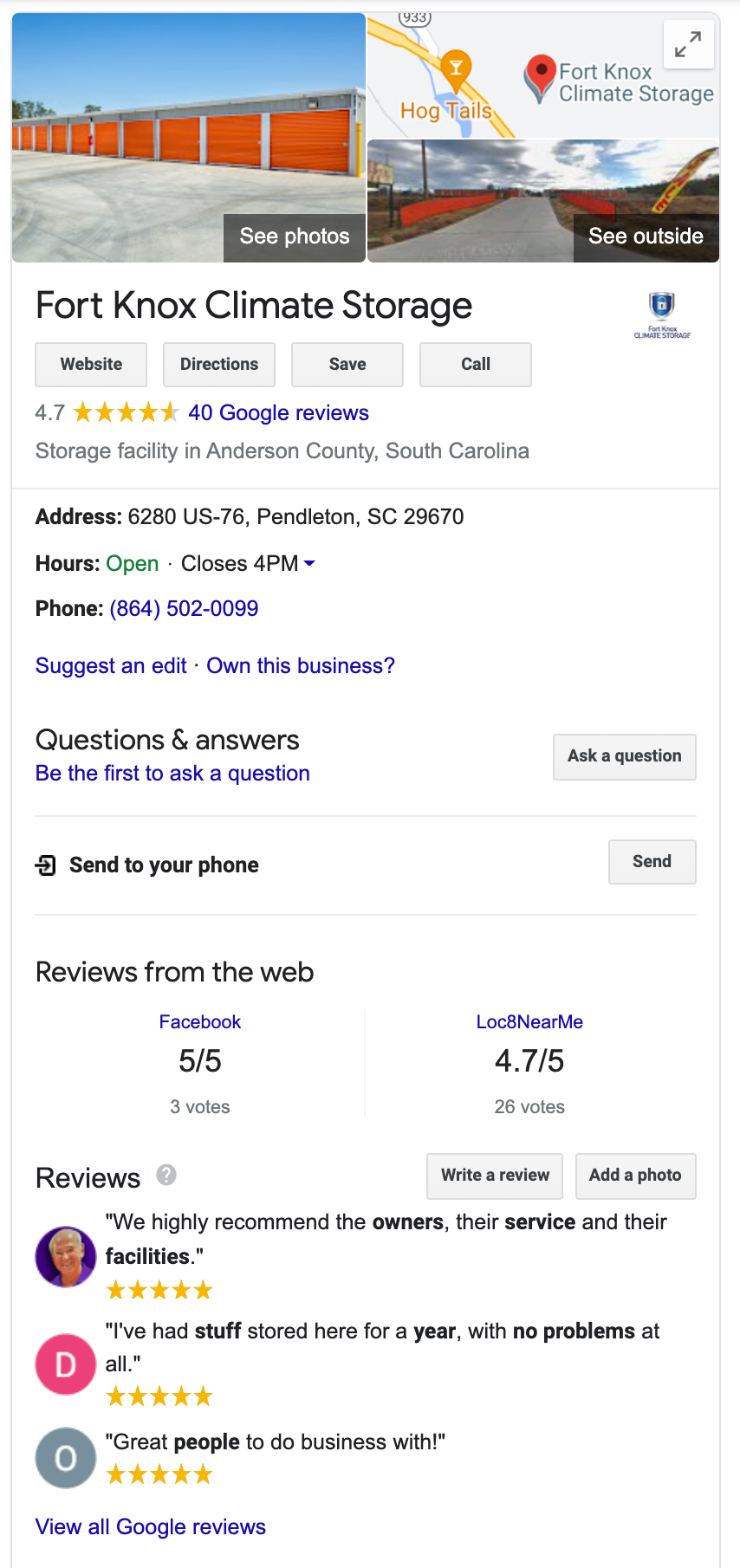 The Sidebar is where the interaction between a prospective customer begins. Here they can save the map, send it to their phone, and also rate the service. In this case, the Owners of Fort Knox Storage will be notified when someone posts a question or comment.
How to Set Up Google My Business
Setting up a Google My Business account is a relatively straightforward process. You'll need to have a Google account for your business first.
Create a Google business account at

account.google.com

.

Log in to your business account, then go to

business.google.com

.

From there click on the "Manage now" button.

The prompts will lead you to enter the correct information.
Google will request you verify your listing and give you the option to do that via postcard, phone, or email. Most small businesses use a postcard.
The postcard has a PIN on it. Google then asks you to go online to enter it which will officially verify your business. A postcard takes around five days to be delivered to your facility.
That's all that needs to be done to get started. Google Reviews and Google Maps are added by Google automatically when your account is verified.
Google Reviews in Action
Google Reviews operate within Google My Business and Google Maps. The public can be reasonably confident that Google Reviews are genuine in that Google scrutinizes their relevance and origin. They are not easily manipulated by the company being reviewed either.
Google Reviews impact local search most often within the Google Map listings because that's where you'll see three local businesses listed in each result which is sometimes referred to as the "Local 3-Pack."
Businesses that have enough reviews to get stars associated with their reviews will stand out from the competition. The searcher can then click on the company that catches their eye and check out the reviews in more detail.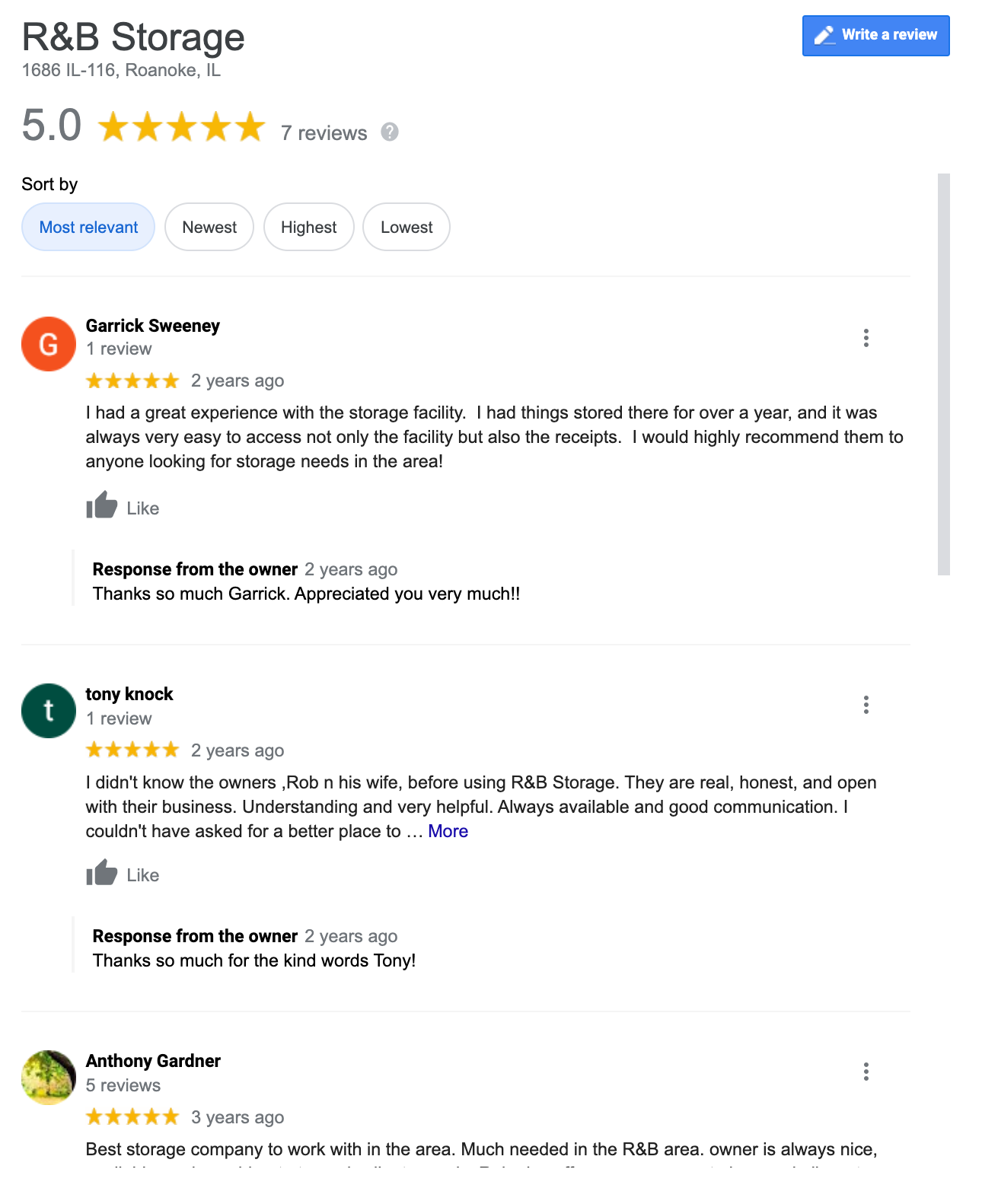 R and B Storage in Roanoke, Illinois, gets a 5-star rating on Google from their customer reviews. Consumers place more value on the experiences of other consumers than the claims you make about your operation.
Encouraging Great Customer Reviews
Excellent customer reviews begin with you. Offering consistent and exceptional customer service will be remembered and appreciated. It's all about creating an impact that is worth a review.
Taking a proactive approach with your current customers is a good idea. Focusing on your top clients could help narrow down the task. Why not ask them for a review? Your loyal clients will want to help your business.
Here are three more quick tips that may help you get more reviews.
Respond quickly to any questions or comments you get on Google Reviews

Create and share a link

in your email, social media, or website to your GMB review panel

Use your preferred social media outlet to ask for reviews from your followers
Dealing with a Negative Review
Of course, everyone is entitled to an opinion, and they are also allowed to express that opinion for everyone else to read using Google Reviews. It's your job to listen and respond appropriately.
According to ReviewTrackers, 94.3% of people who see a bad review will avoid that business which means you want to act fast. If your business, your staff, or even you receive a bad review, reach out to the person quickly.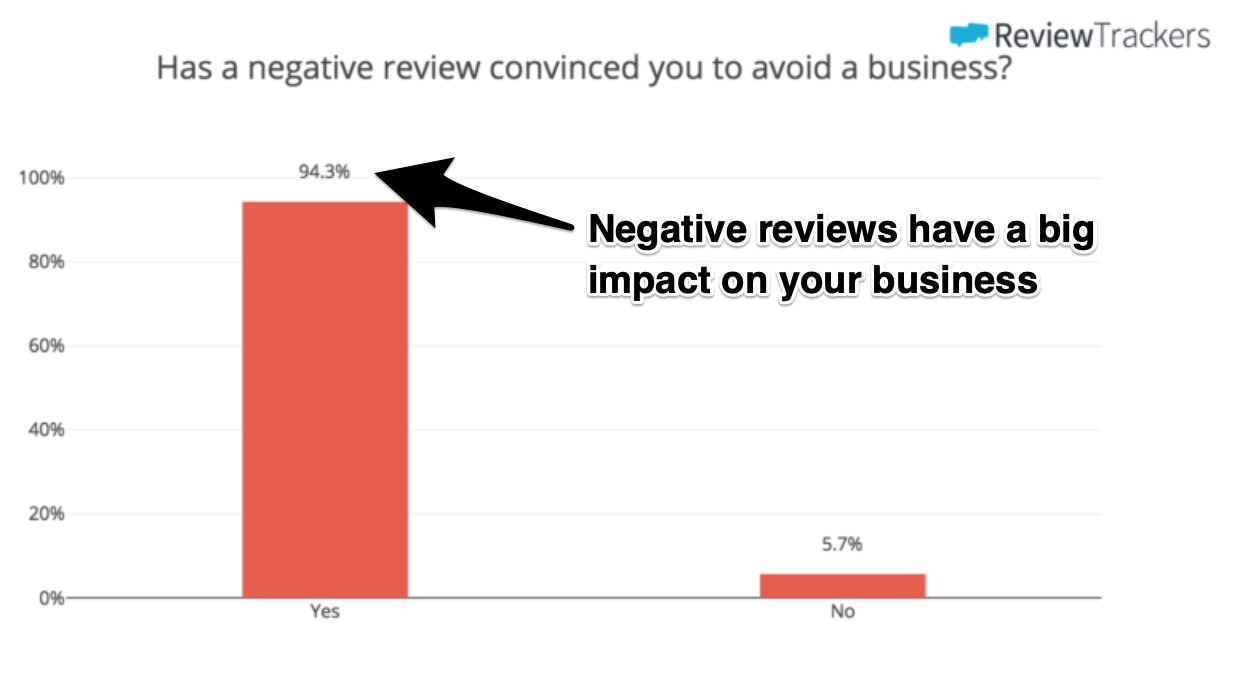 If you think you received an unjustified negative comment, Google allows you to state your case. There's a slight possibility they will take it down if they agree it was done maliciously or in error, but it is a very high bar to jump because if a customer was just dissatisfied, they won't remove it.
But you might be able to do it yourself by reaching out to that dissatisfied customer. According to ReviewTracker, you can make a measurable difference by responding to customer feedback: 45% say that they're more likely to visit a business if it responds to negative reviews.
"When it comes to responding to bad reviews, keep it simple," according to Ryan Olestro, Marketing Specialist for the digital marketing firm Winbound.
"First acknowledge the reviewer because everyone wants to be acknowledged. Then apologize for their poor experience and re-assert your business values. Finally, invite them to talk to you personally and privately by giving them an email address."
With the right approach, you might have a chance to turn their opinion around and not only get a better review but also keep a valued customer.