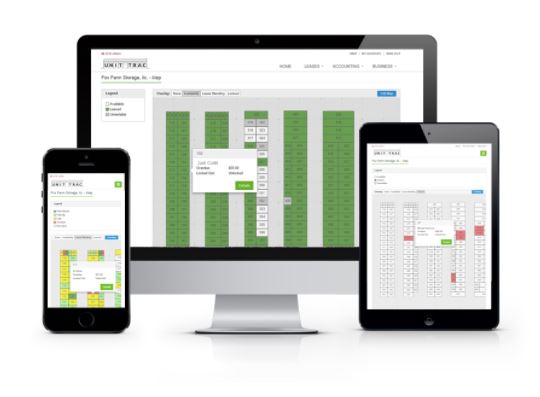 How an Interactive Facility Map will Track Self Storage Units, Streamline Sales, and Improve Customer Service
How often have you found yourself running laps at your self storage facility just to figure out the status of your units?
The constant back and forth to review what units are rented, delinquent, reserved, or even just unrentable because of ongoing maintenance gets old.
An increasing number of self storage facility owners have found an easier way. By adding interactive maps to their operations, they've cut down on the running around and in turn are offering their customers better, faster service.
Rob Huschen is a perfect example.
Rob's Frequent Trips to Check on Facility Units Were Wearing Him Out
Years ago, when Rob Huschen of R and B Storage first started his self storage business, he was frequently driving out to his facility. It seemed he always needed to check on something to do with any given unit, at any given time.
His facility was over 25 miles away, and the endless need to drive out there was sucking up more and more of what little time he had left outside of his full-time job as an insurance agent. He knew continuing with this routine meant growing the business wouldn't be a reality anytime soon.
It was the main reason he wanted to explore the possibility of adding a facility map as part of an online integration and part of his plan for expansion.
His cloud-based management software developed by Unit Trac already had a map feature integrated within its design so he decided to look into what it had to offer.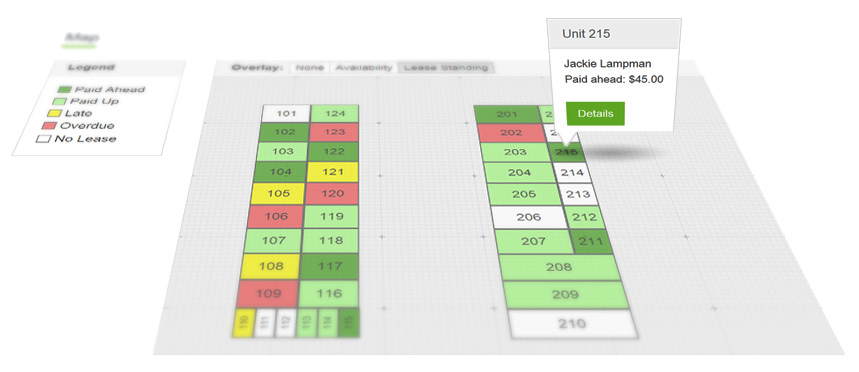 Facility owners can use an interactive map like the one in the Unit Trac software to get an accurate visual of their facility
Overcome a Complicated Layout with a Straightforward Map Solution
Creating maps for tracking unit status and availability has always been a challenge for self storage unit owners like Rob. Even though some self storage facility layouts are fairly clear-cut, others, particularly those containing multiple buildings, offer more challenges when creating maps for viewing unit status.
With the help of Unit Trac customer support, Rob was able to map out the layout of his facility to show each separate building and include the size and details of each unit.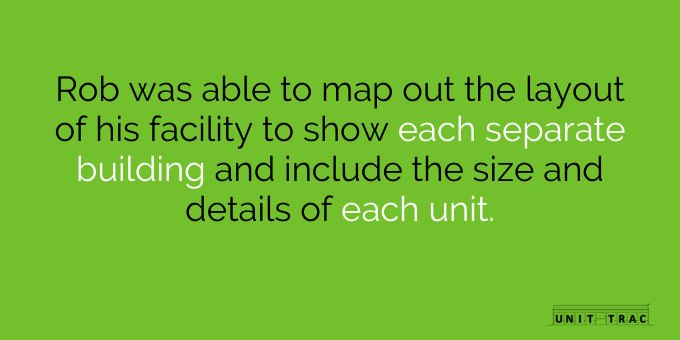 The fact that Unit Trac was also able to handle oddly shaped units and multiple levels made it that much easier. Before he knew it, they had put most of the information in the system.
Choose a Map Creator That's Simple to Set Up and Maintain
As Rob's story suggests, support and easy-to-use software are critical to your success. But avoid getting sucked into an overly complicated or hard-to-set-up map creator that requires behind the scene code or lots of technical knowledge.
Instead, look for simple, easy-to-use software that allows you to create a map no matter how many buildings or facilities you have. An interactive map feature should allow you to:
Easily customize your map to show all of your rentable and unrentable units

Expand your map as your business grows

Enter and view data to generate valuable reports

Quickly view your facility availability and payment status from your phone or computer

Customize each of your units to the sizes and shapes they actually are

Add important notes to the unit

Categorize your units as to their potential availability

Quickly start a lease directly from the available units shown on the map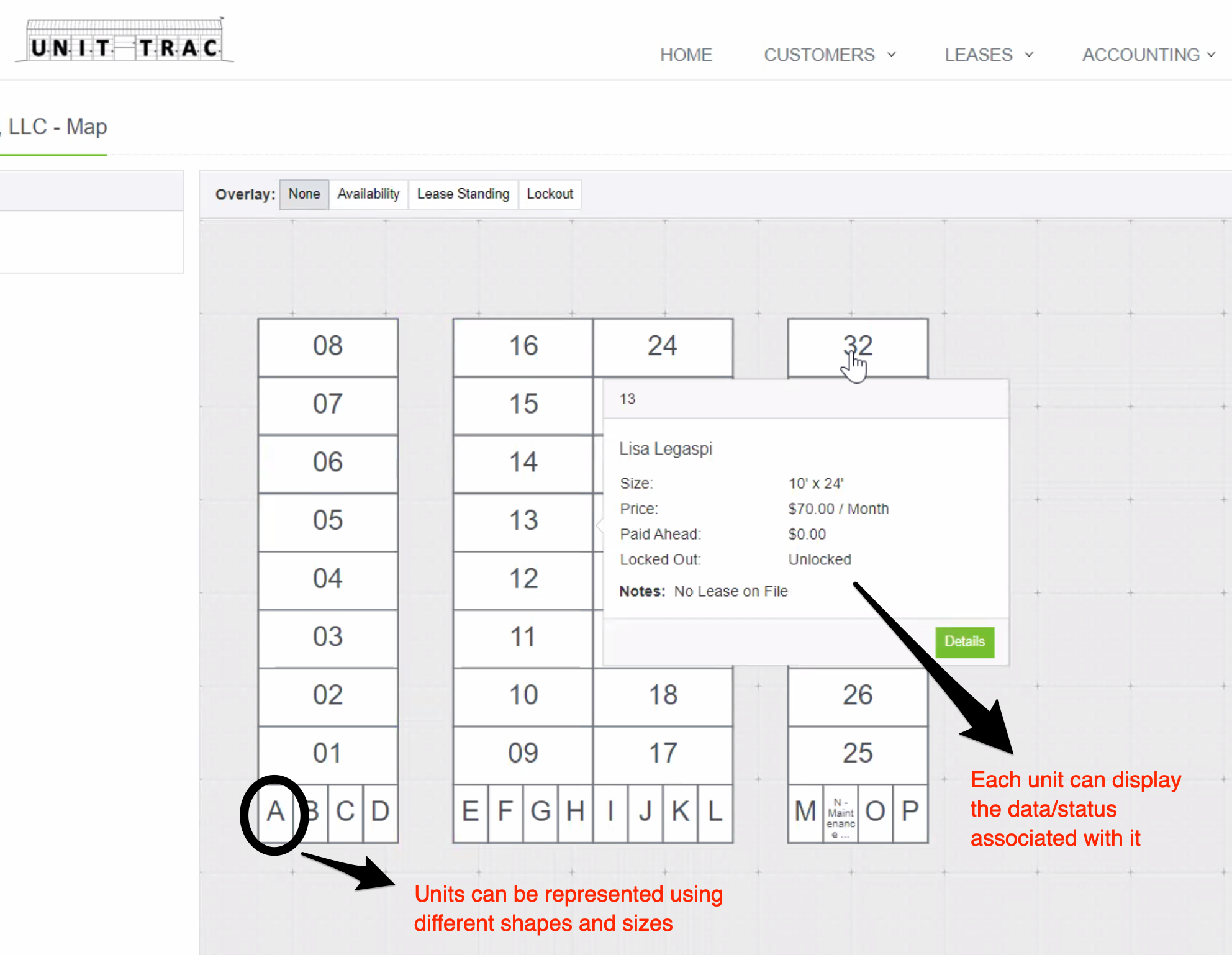 Screen image of a typical Unit Trac facility map
Streamline Your Rental Process by Using an Interactive Map
Many owners continue to rent units using a traditional method. It starts with a phone call, involves a site visit, and then coordinates yet another separate meet-up to sign the lease and collect the first payment.
Talk about an incredibly time-consuming way to rent a unit.
By utilizing an interactive site map, you'll create not only an invaluable resource for finding unit status quickly but also a way to streamline your rental process. An interactive map will allow you to quickly see which units are available and jump right to the details for that unit.
Nicole Roberts, who provides customer support for Unit Trac, says by using a system that offers electronic lease applications in addition to an interactive map you can rent out a unit completely online.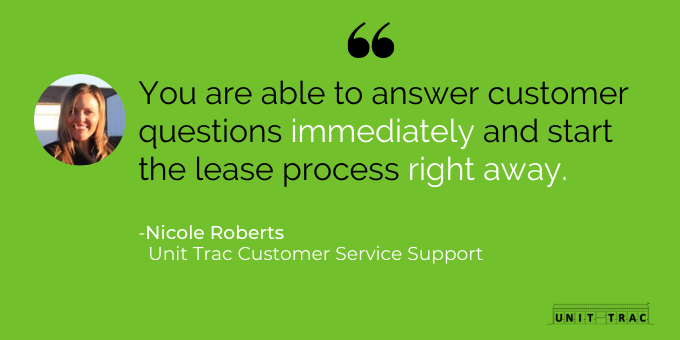 Securely Track Storage Space and So Much More by Customizing Your Map
With a map like the one Unit Trac offers, the view is available only to you, which means your facility map provides a lot of information in a secure way. You can manage your units privately and customize the data view without the worry of anyone other than you or your staff knowing its status.
While the core functionality is geared to help owners securely track storage space, it is hardly the only benefit an interactive facility map offers.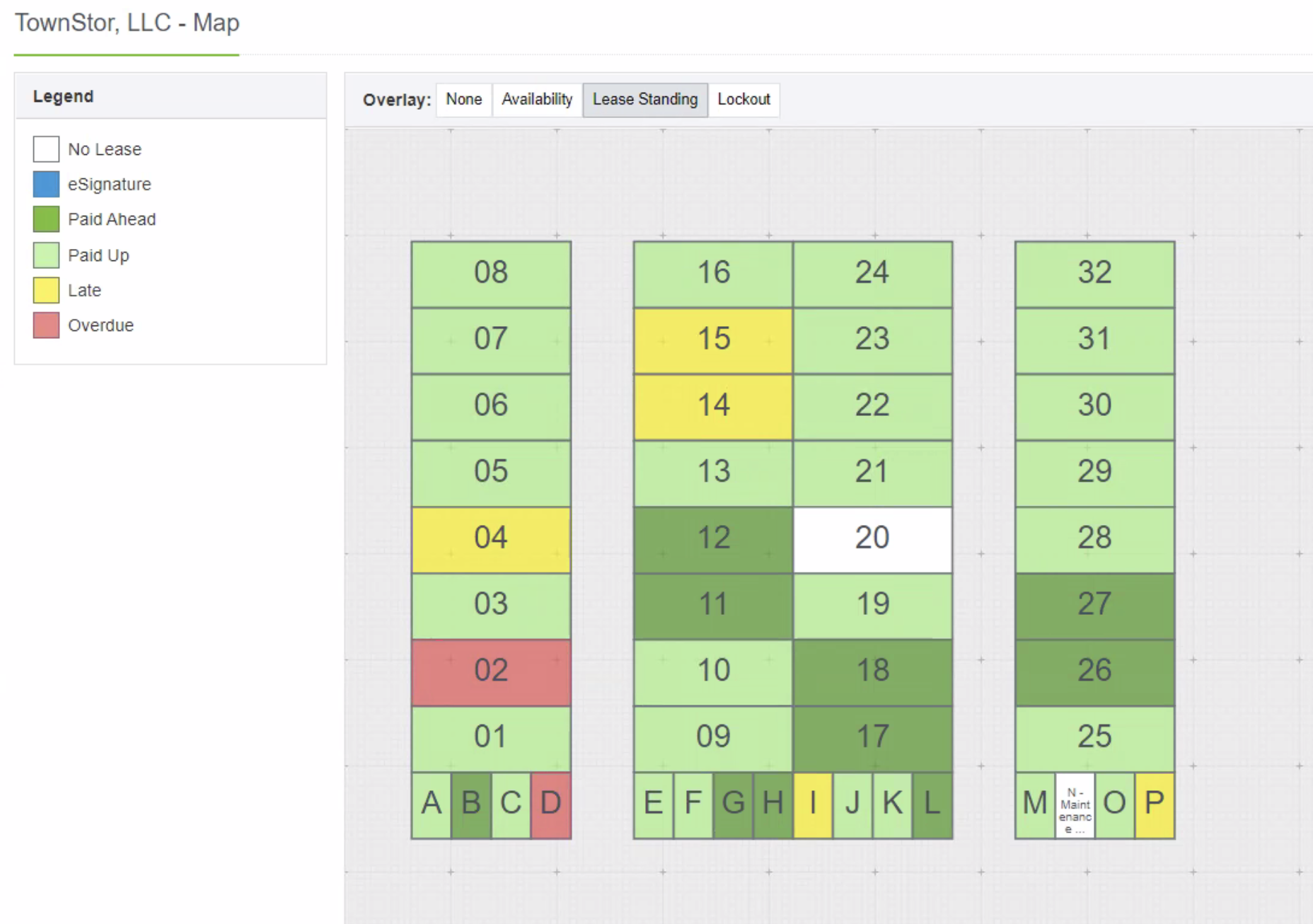 Customize your facility map to suit your processes
By customizing your online facility map you are able to:
Easily know the status of each unit

Reduce paper use because you can

view maps online

View more than one facility and flip from one to another
One other advantage you may not have considered is the positive impact it has on your customers.
Give Exceptional Customer Service with Map Access Anywhere, Anytime
With features like the ones mentioned above available to you online, you're ready at any time for most customer requests.
For example, if a current customer wants another unit near their first one or a new customer requests a unit that features extra driveway space, you can scan the facility map for those requirements.
Bob Malle and Greg Leach, from Fort Knox Storage and longtime Unit Trac customers, say an interactive online map meant they could offer their customers outstanding service while running the business from anywhere, even their car.
"Once we saw it demonstrated, I knew that there was no question that it was going to be the software we'd use," said Bob.
Demand Accurate Data Delivery and Valuable Reporting
An interactive self storage map will show you essential information for each unit that can be compiled into a report. With it, you'll see an overall view that will help you improve pricing and reporting revenue.
The data you collect will be a significant influence on your future business decisions. Accurate reporting allows you to see real-time forecasting based on what is going on in your facility right now.
For example, the rental growth report in the Unit Trac software is used to watch the trends of newly signed leases and leases that have ended. It's useful when wanting to show the facility's stability over time, especially for those who may be in a situation where they are considering selling.

Unit Trac's rental growth report
Map the Future of Your Self Storage Business
Getting your units into an interactive facility map is the best way to manage and track the health of your business. Self storage owners who have made the transition say they'd never go back to how it was before.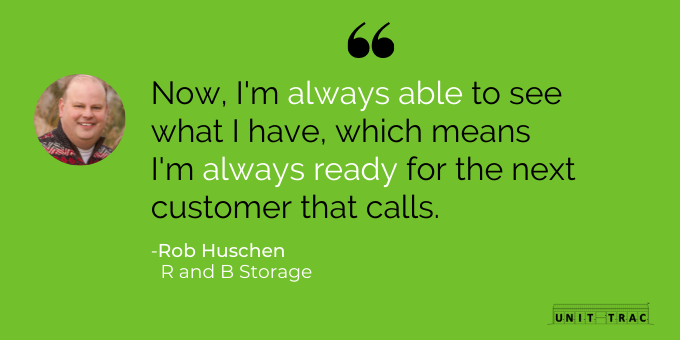 With an interactive map, you're in control and able to manage the information that matters to your customers and your finances. It's a way for you to be more efficient while saving time, headaches, and maybe even a tank of gas or two.
At Unit Trac, you have the option to build your own site map, or we can create one for you. Take the next step to improve your self storage facility's operations and contact us to learn how Unit Trac can create a practical, easy-to-use map solution just for you.