8 Essential To-Do's to Get Your New Self Storage Operation Up and Running
Congratulations! You've just closed the deal on your new self storage facility. Wondering what steps you should take next? The checklist below will remind you of the essential tasks you need to complete before you open your doors.
Each item focuses on building a great customer experience and helping you remember all the business management tips you need to run a great business.
▯ Finalize your Rental Agreement
Why: The self storage unit rental agreement is a legally binding document. Signing means everyone has agreed to the rental price and terms (late fees, move-out procedure, trash pick-up, etc.). For this reason, it's essential to use language and a format that suits your business.
How: If you are using an existing agreement, it is good to have your lawyer look over it to see if anything is missing. If you are creating your own, it's good to check with your local Self Storage Association for a state-specific rental agreement or work with your attorney.
Generally, each unit contract includes:
Monthly rent amount

Payment due date

How payments are accepted (check, credit card, or online)

Security deposit amount

Late payment fees

Consequences of delinquent payment

Any additional fees (lock-cut, trash pick-up, auction fee, etc.)

Unit Use rules and consequences of breaking those rules

Giving notice

Landlord rights and responsibilities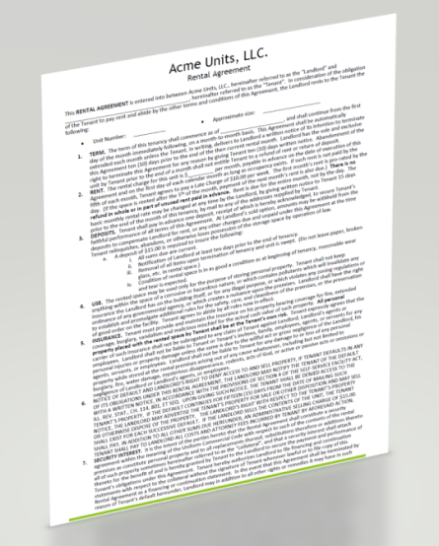 A general lease agreement contains the name of both parties, contract termination details, terms and conditions, payment details and description, location of the storage unit, security information, and all other information that must be legally included in a lease agreement.
▯ Write a New Owner Introduction Letter
Why: It's a good idea to introduce yourself as the new owner to inform current customers of the upcoming changes. It's also an excellent opportunity to make the transition process smooth for everybody.
How: Create a draft of the letter in both hard copy and digital form and have it ready to send after closing. Don't worry if you don't have all the details finalized – just send a letter with what you know. Better to communicate and say hello than to say nothing.
Sample Landlord Introduction Letter
Your introduction letter should contain everything they need as a unit renter. Make sure to include:
Business Name: Notify customers if the business name is changing or staying the same.

Address: Provide the physical and mailing address.

Contact Information: Provide phone number, email, and company website.

Rental Rates: Address whether current rates will remain the same or if there will be an increase.

Remind Customers of Payment Dates: If you prorate, remind your customers that payments are due on or before the 1

st

of the month or the anniversary date from when the customer started renting.

Payment Options: Confirm what payment options you will accept - cash, check and credit/debit card.

Grace Period/Late Fee Policy: Consider whether the late fee policy will go into effect or if you will have a set date that the late fee policy will go into effect after getting up and going.
Tip: If you happen to get a customer email list at closing – don't forget to copy the email addresses into the BCC field of your mass email so that your customers don't see the other email addresses.
Sample - New Owner Introduction Letter
▯ Collect and Secure your Customer Information
Why: A critical part of your new job as a facility owner is collecting and storing all aspects of your customers' information. It's your responsibility to ensure that it is updated, accessible, and secure. Some new owners start with a paper system but find that it can quickly snowball out of control.
If you're planning on keeping your units full and even possibly growing your business, your system will have to be able to keep up. An online management system is worth serious consideration.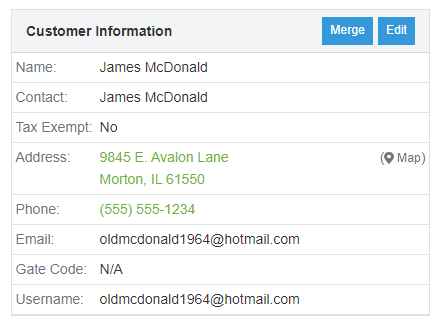 Getting your customers into Unit Trac self storage management software is a great way to assess the facility's health, which will also help you develop and start to put plans in place for operating the business once you take over.
How: Because your goal is to get new customers entered and assigned to their units as fast as possible, you want a system built specifically for your business.
Keep in mind that before you choose one, you'll also have the added task of entering existing renters into your system, so it needs to be flexible and offer support.
By approaching it as a complete self storage business system rather than just another customer relationship management tool (CRM) or accounting-only system not built specifically for this type of business you'll ensure long-term success.
Look for a system that can hold customer information and work with your business operations to track billing, send out notifications, and allow for an easy way to collect payments online.
▯ Take and Showcase Facility Photos
Why: Before you get too wrapped up in the tasks ahead, remember to take great photographs and videos of your facility. Your website, Google My Business listing, and social media offer plenty of opportunities to display your images and make an impact on your current and future customers.
According to Google, businesses that add photos to their Business Profiles receive 42% more requests for directions on Google Maps and 35% more clicks through to their websites than businesses that don't.
In addition to driving visitors to learn more about your self storage business, photos and videos could also keep them engaged longer, which increases the chance they'll call for more information.
The use of photos is good for your existing customers too—reinforcing their decision to use your facility when they use your website to pay their bill.

These types of pictures are great to have on your website and any Facebook Marketplace or Craigslist posts (which allow up to 10 photos) for you to generate interest in your facility.
How: During walk-throughs and inspections, take pictures of the facility exterior and also inside units. Include various angles of each unit to show the sizes and also any amenities or extras you offer.
Here are a few ideas of what to photograph at your facility:
Manager or team

Aerial shots for an overview of your facility

Signage/billboard

Outside building view

Grounds/landscaping overview

Wide shot of storage units and driveways

Entry gate and or security fencing

Storage doors

Keypads and security cameras

Interior of varying sized storage units

Office

Special features like dollies, carts, etc.
Tip: Usually, the real estate listing will have pictures from nice sunny days or drone shots of the facility – which are wonderful for highlighting your facility.
▯ Set up Bank Account and Payment Channels
Why: While it's not uncommon for some self storage businesses (especially smaller ones) to incorporate their business into their personal account, it's not a good idea. Instead, to protect yourself and your assets, it's better to set up and use a dedicated banking and credit account for your self storage business.
Additionally, when you want to grow the business, it will make it easier down the road if you decide to look toward other financings in your business's name.
Setting up a separate bank account for your business will make tax filing and accounting easier.
How: Reaching out to your personal bank will be a great way to get started because you already have a relationship with them, and often they have a business side that can work with you.
You can open a business bank account once you have your employer identification numbers (EIN) for both federal and state.
Most business bank accounts offer perks that don't come with a standard personal bank account so remember to shop around. Your local small business association is a great place to get more information on banking options in your area.
Once the accounts are set up, you can see what renter payment options your bank recommends and which will work best for your account, business, and customers. If you chose an all-in-one management system, you might have the option to include an integrated credit/debit card processing.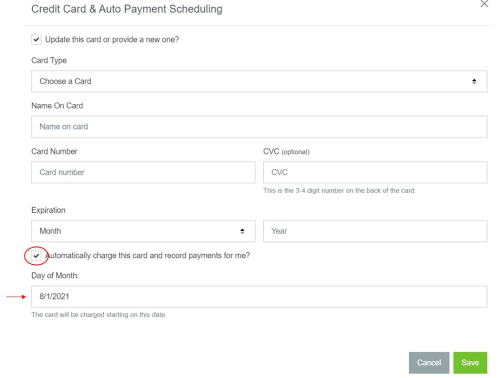 Unit Trac makes it easy for your customers to pay you with an integrated credit/debit card processing feature. Think: Click. Sign. Rent.
Tip: Don't forget to order business checks so that you can issue a check to return a deposit – if you have a cash or check-paying customer.
▯ Establish a Separate Business Phone Line
Why: Yet another way to keep your personal and business life separate and private is to get a phone set up exclusively for your business.
The added benefit of having a business phone number is that it's seen as more professional and allows potential customers a simple way to find and contact the business.
How: There are lots of services that small business owners can use when setting up a business phone system. It boils down to the most convenient option which is usually a cell phone.
A cell phone can be set up with a few calls to the available carriers to compare prices and plans.
You could also consider using Google Voice. With it, you'll have a local phone number that rings to your cell phone and allows you to send and receive text messages without giving out your personal cell phone number. Best of all, it's free!
▯ Launch a Business Website
Why: Forbes magazine reported that a 2021 Self Storage Almanac survey revealed that almost half of customers find their chosen self storage provider online. And for those who discover their chosen site offline, they often check out the facility's website before viewing it.
Legitimate businesses have websites - it's as simple as that. The size of your self storage facility doesn't matter. It still needs to be online. All you need is a way to build a website and purchase a domain.
How: Not only is creating a website cheaper than it used to be, it is also a lot simpler. In fact, some self storage management software provides simple custom website options within their system or will integrate within external websites for added functionality.
Once you decide on your domain, you can also get an accompanying email address like rent@acmeunits.com or info@acmeunits.com. If you prefer, you can also create an email account like acmeunits@gmail.com. Whatever works best for your business.
After you've launched your website, you'll want an audience. Here are a few simple ways to entice visitors to your site:
Tell your friends and family and ask them to share the link on their social media sites

Announce it on your social media sites, and remember to include a link to the new website

Get your free

Google business listing

Include the website in your email signature and on your business card
With Unit Trac, your account comes with a personalized website that includes a logo, facility photo, real-time pricing and availability, online rentals, and more. You can work with the Unit Trac team to have this all set up, and the moment you walk out of closing, you can make your website go live.
▯ Develop an Interactive Facility Map
Why: If you're serious about managing your facility efficiently, you'll want to have access to an interactive facility map. A good self storage facility management platform will incorporate a facility map as a way to help manage, monitor, and run the operations of individual self storage units or site-wide facilities.
You'll have all the relevant renter information and status of each unit available to you wherever you have internet access. It's a solution that can make managing your business much more accessible.
How: Look for simple, easy-to-use software that allows you to create a map no matter how many buildings or facilities you have. An interactive map feature should enable you to:
Easily customize your map to show all of your rentable and not rentable units

Expand your map as your business grows

Enter and view data to generate valuable reports

Quickly view your facility availability and payment status from your phone or computer

Customize each of your units to represent their sizes and shapes

Add important notes to the unit

Categorize your units as to their potential availability

Start a lease quickly, directly from the available units shown on the map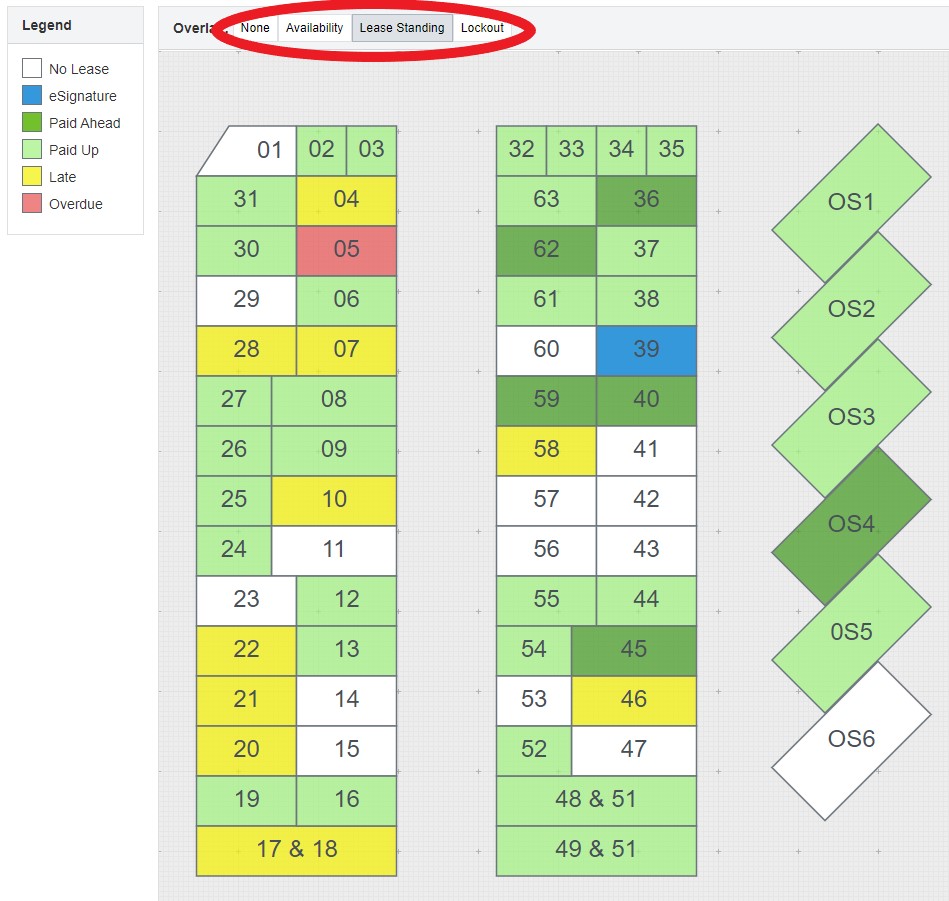 With a map like the one Unit Trac offers, the view is available only to you, which means your facility map securely provides a lot of information. You can manage your units privately and customize the data view without worrying whether anyone other than you or your staff know its status.
Next Steps
Getting ready to open a new self storage business can be stressful. But, once you've completed the above items as part of your planning, you'll be more prepared to open those doors.
However, they don't guarantee results. Your inner drive, lots of hard work, and a continued organized system will keep you moving towards success. Good Luck!