American Mini Storage Facility
How to Make Self Storage a Second Income, Not a Second Job
When you first got into self storage, you might have been attracted to it not only for that extra income but also because you thought it wouldn't take up a lot of your time. In fact, you were likely counting on that because you already had a "real" job.
However, now that you're in it, you may be starting to realize it's becoming a bit more than you bargained for.
Despite the low maintenance and operating expense, self-storage owners often find that running a profitable self storage business presents its share of time-constraint challenges.
R and B Storage Owner Rob Huschen said it best when he said, "I couldn't let an investment business like our self storage facility take away too much time from my current career because that's where my focus and my energy had to be."
Keep it Manageable
The Self Storage Association reports that small business owners run 73% of self storage facilities. Many of those owners (like Rob) are working full-time jobs in addition to overseeing their self storage facilities. The good news is that owners like Rob are a testament to the fact it can be done.
Of course, the management of a storage facility will vary based on size. Millionacres (an investment website) calculates the following management requirements for self storage facilities: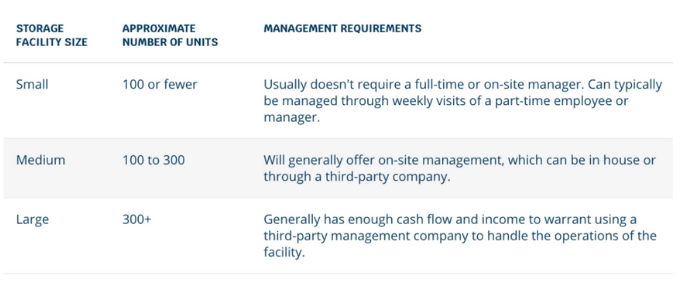 No matter the size of the facility, owning a self storage business means handling everything required in the day-to-day running of it, including:
Renting units

Marketing

Collecting rent

Maintaining the facility

Communicating with customers
Luckily, because the self storage business model can be pretty straightforward, you can plan for it like Nicole Roberts and her husband did before opening their first self storage business in Illinois several years ago.
She recommends working within the industry beforehand if possible to learn everything you can.
"I started working with Unit Trac, a self storage management software company before we bought our first building. I benefited from seeing how other self storage owners managed their facilities and their time. I'm now able to offer that experience to Unit Trac customers."
Work Smarter, Not Harder
Just like Nicole and Rob learned, with the right approach, your small to mid-size self-storage business won't have to end up sucking up all your time.
Implementing efficient systems that will create a smooth workflow is critical. So, do yourself a favor and start with the three areas most small businesses need to deal with regularly: marketing, maintenance, and management.
1. Marketing
Marketing doesn't have to be a drag. Keeping up with a few low-key marketing efforts will help ensure that you can continuously rent out most of your units.
Start with a great sign:

Your marketing should start the minute you open your doors for business. Choosing a great spot for signage matters because many renters will find you just by driving by and seeing it.

Reliable referrals:

Ninety percent of consumers surveyed in a

Neilsen online consumer survey

noted that they trust recommendations from people they know. Tap into your current customer base and ask for those referrals. Make notes in your invoices to current customers if you have units available or even reach out to your past customers to let them know.

Online strategy:

These days, self-storage business owners need branded,

custom websites

to attract new renters. Creating a reliable, user-friendly website is a low-stress tactic to show your value and a great way to communicate with your renters. Also, don't forget to set up your free Google My Business listing. It'll help your business get found online quickly.
2. Maintenance
By staying on top of maintenance essentials, you'll likely avoid any large time-sucking disasters. Whether it's something you'll take on yourself as a weekend warrior or hire someone for it, it's best to make reliable checklists (daily, weekly, monthly, and quarterly) to keep you on track. Your list should include at a minimum:
Unit Doors - check them, oil them, repair them

Building Exterior - check for damage, clogged gutters, and any areas that could potentially be leaking

Inside and Outside Lighting - assure lights are all functioning, including motion sensors and timers

Drives and Landscaping -

fill cracks and potholes, trim bushes, maintain flowers and lawn
Nicole and Rob both recommended having good contacts to call on during urgent situations - such as local door repair or lawn care.
3. Management
Managing your self storage business takes a lot of work. Using a reliable and flexible management platform will ensure your self storage business won't dominate your days. The long-term success of your business relies on a solid system that will track billing, notify your customers and allow for an easy way to collect payments online.
"The more efficient you can make the day-to-day management of the operations and facility through the tools you utilize, the more time you have to spend doing what you want to do instead of what you have to do." -Nicole Roberts, self storage owner and Unit Trac Customer Support
Through a complete cloud-based management system like the one made by Unit Trac, you can also give potential renters the ability to sign a lease all online. In addition, you'll be offering yourself and your customers a way to make life easier by giving 24/7 availability to service whenever it's convenient.
Enjoy Your Second Income!
There's no getting around the fact that starting a self storage business initially takes quite a bit of work. You'll find yourself spending long periods putting your systems in place before you can begin earning that sought-after second income. So, you'll need to be patient, diligent, and work hard at the beginning.
But, with the correct setup and investment in targeted technology, your self-service storage facility will be just the second income resource you dreamed about. And who knows? Maybe this time next year you'll be able to enjoy a second vacation instead of worrying about a second job.
Learn more about how to significantly reduce the time you spend managing your self storage business by using an affordable, online management system like Unit Trac. Call us today for any questions we can answer, log in for a full featured demonstration or sign up.