15 Easy and Affordable DIY Self Storage Advertising and Marketing Ideas
If you're a small to mid-sized self storage business, you're likely on a budget. But that doesn't mean you can't still promote yourself successfully. We've detailed 15 easy and affordable self storage advertising ideas below to help you get started.
Each strategy falls under one of three main categories:
Advertising Methods That Only Require Elbow Grease (8)
Local Strategies That Get the Word Out (4)
Revenue Streams That Make Money and Bring in Traffic (3)
Advertising Methods That Only Require Elbow Grease
1. Yard or Building Signage
A yard sign or building signage can be a low-maintenance, affordable way to advertise your self storage business. It's a tried-and-true method that benefits you because it:
Targets local, potential customers

It is lightweight and easy to set up

Can be easily changed or updated
And keep in mind, people spend a lot of time in their cars. In fact, a highly cited car study on how much we drive and what we do when driving points out that 70% of consumers surveyed read the messages on roadside signage.
37% of those reported looking at a sign every time they pass one. That means, your sign will get seen as long as you position it so it's visible to those driving by.
A couple of things to keep in mind when it comes to signage:
Keep it simple (eight words or less is best)

Have a specific message (don't complicate it)

Make it memorable (your design should stand out!)

Use contrasting colors to make it pop
2. First Impression - Keep Your Facility Looking Great
The curb appeal of your facility is essential in keeping the renters you have happy and attracting new business. The exterior facade should be maintained regularly, including:
Doors and windows

Driveways and parking areas

Fencing and entry gates

Landscaping and snow removal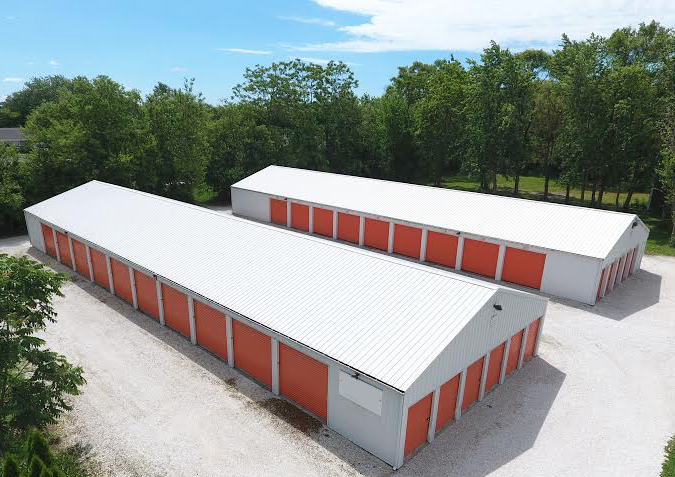 Whether you have 100 units or 1,000 units, upkeep is key to attracting new renters and keeping the ones you have
3. Google Maps
Tapping into Google Maps to market your self storage business is a smart move for attracting local renters.
But before you can use Google Maps, you'll need to have a Google account for your business first. It's how Google can verify the type of business you have and your location.
Setting up a Google My Business account is a relatively straightforward (and free!) process.
Create a Google business account at

account.google.com

.

Log in to your business account, then go to

business.google.com

.

From there, click on the "Manage now" button.

The prompts will lead you to enter the correct information.
Google will request you verify your listing and give you the option to do that via postcard, phone, or email. Most small businesses use a postcard.
The postcard has a PIN on it. Google then asks you to go online to enter it, which will officially verify your business. A postcard takes around five days to be delivered to your facility.
Google Maps is automatically added to your account when it is verified, but you need to set it up. For step-by-step instructions on creating a Google Map for your business, Google walks you through it here.
Your Google Maps profile, including your business name, phone, hours, directions, etc., should be included. It's also a good idea to add a photo like the one below.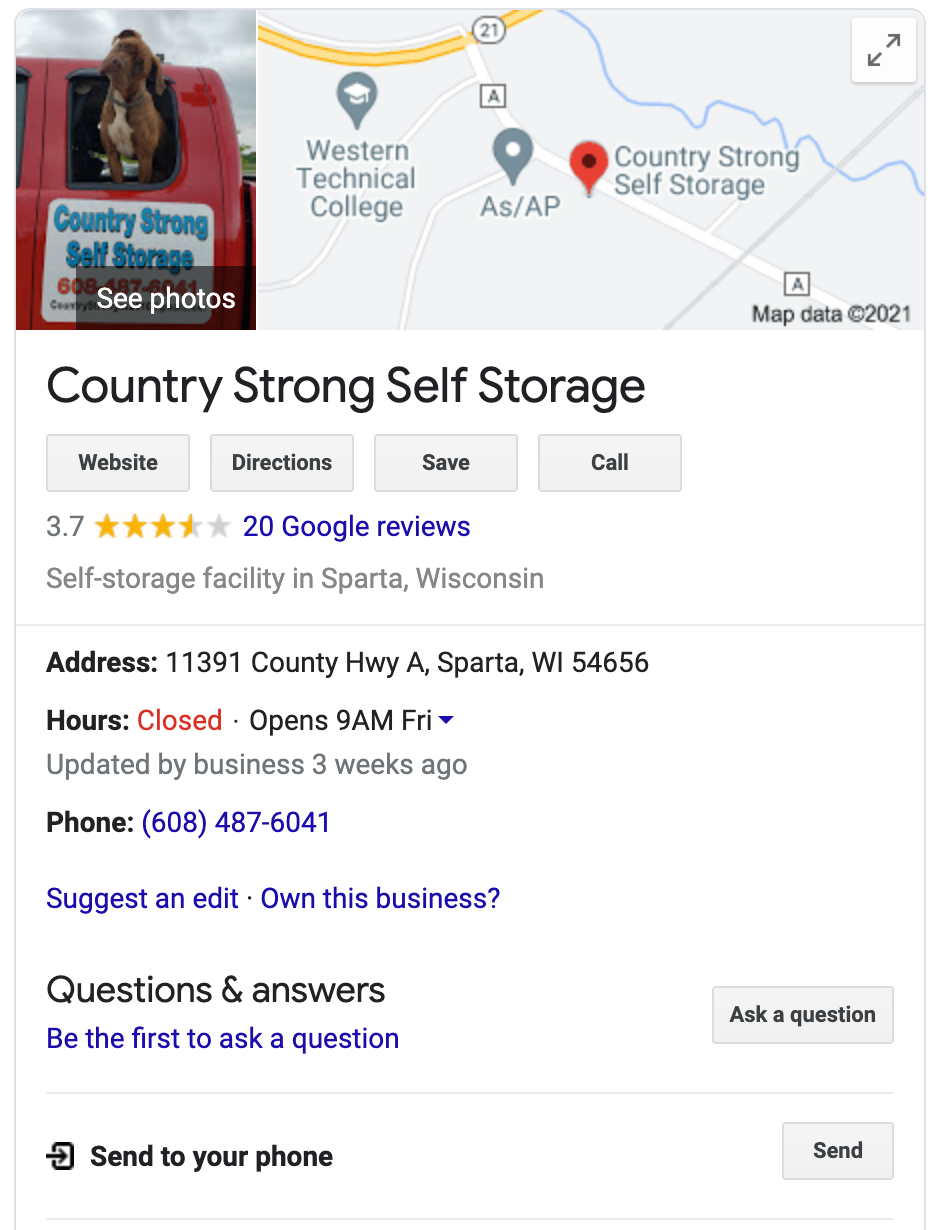 4. Online Customer Reviews
Here's another area where Google can help you out, and it'll cost you nothing.
Google Reviews operates within Google Maps. It's a trusted source for customer reviews because Google scrutinizes their relevance and origin and it is not easily manipulated by the company being reviewed.
To help generate some online reviews try:
Reaching out to your current renters

Showing off any existing reviews on your website

Responding and engaging quickly with reviews

Using social media to get the message out
Businesses that have enough reviews to get stars associated with their business will stand out from the competition. The searcher can then click on the company that catches their eye and check out the reviews in more detail.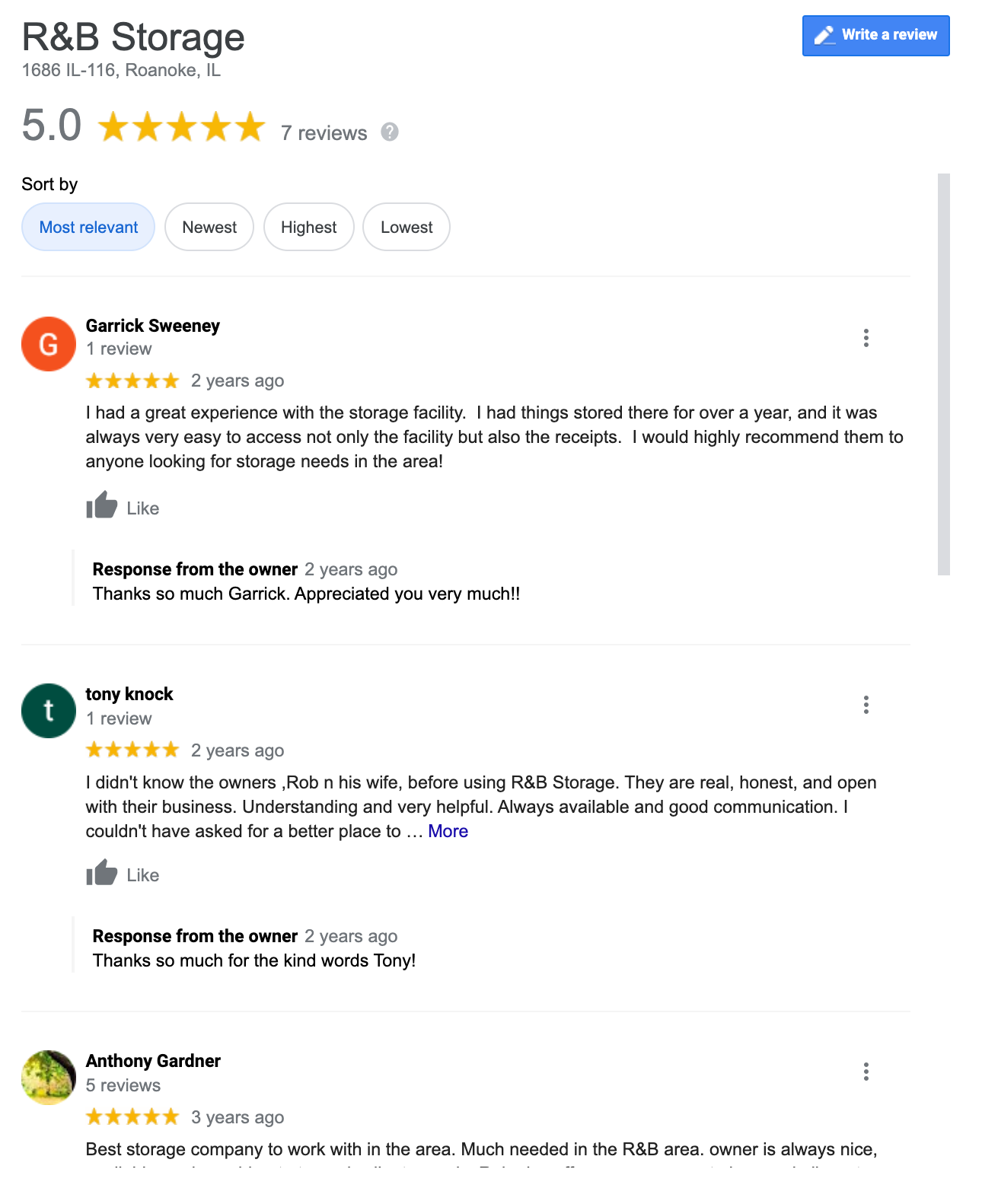 R and B Storage in Roanoke, Illinois, gets a 5-star rating on Google from their customer reviews. Consumers place more value on the experiences of other consumers than the claims you make about your operation.
5. Social Media
The benefits of social media for your business depend on your approach. Just having an account with some occasional activity probably won't cut it.
Facebook recommends using their platform to promote your business for free by:
Improving your discoverability with hashtags

Sharing essential business information

Encouraging comments and conversations with posts

Showing your business with Live videos

Inspiring interest with Stories

Creating a community through Groups
If you want to be more straightforward with selling on social media, Facebook offers paid advertising that allows you to specify your desired demographic.
Review Facebook's guide to advertising on their platform for more details on how it works. Look into markets outside of Facebook, like Craigslist, if you're willing to pay to promote your storage facility.
6. Email Marketing
Email marketing involves sending a commercial email to a list of your "subscribers." Subscribers are those people who have signed up and have given permission to receive communication from you via email.
It's a great way to inform your current and potential customers and efficiently deliver a personal message right to their inbox.
Email marketing can drive sales and increase rental activity by advertising incentives and offers and by providing a way to ask for referrals for new business.
A customized approach to email marketing focuses on personalization instead of a one-size-fits-all message. Many businesses use an affordable email service provider to pull this off. It's a software platform that helps manage your campaigns by creating targeted emails to groups that you specify.
Some ideas for email content could be:
News about your services

Shareable articles of local interest

Facility promotions like coupons

Staff updates and new facility features

Storage ideas and advice
Keep in mind your objective when sending the email. Remember to guide your audience to take a desired action like visiting your website, making a referral, or reviewing a new service option.
7. Flyers
Sometimes the most obvious approach is the most effective. For example, creating and distributing flyers is a great way to advertise your self storage business. Simple, affordable, and trustworthy, a well-designed flyer engages on a physical level.
To help you create an effective flyer that will boost your business, consider the following tips:
Don't let your flyer get crowded or messy

Grab their attention with bold design

Provide more than one point of contact (cell, website, social media)
To touch as many people in your community as possible, send them to local realtors, landscaping companies, construction companies, or other businesses that would have storage needs.
Also, ensure you have them available at your facility to hand out when someone stops by.
8. Postcards (snail mail)
A cost-effective, versatile way to grab the attention of potential renters is with a printed postcard. Though it may seem old-fashioned, it is still a go-to marketing tool for small businesses wanting to get the word out without spending too much money.
Recipients can scan the message quickly without having to open an envelope. And they're cheaper to mail than letters. You can also hand them out in high-traffic areas – no stamp needed!
For a successful postcard marketing campaign, try:
Creating an eye-catching design (try design ideas from

FedEx

and

Action Mailing

)

Using both sides for more information

Including a special offer (10% off your first month's rent, free month, etc.)
There is a great USPS service online that can help with direct mailers such as flyers and postcards.
Local Strategies That Get the Word Out
1. Community Involvement
Promoting your self storage business while supporting your community is a win-win. Things like volunteering for local causes, donating to charities, or sponsoring a sports team have a positive impact on your area and create a positive image for your business.
Your efforts here don't need to always be self-serving. Instead, make an effort to be helpful and involved. Your community will remember you positively after they've seen and felt your support.
2. Community Activities
Self storage facilities often have outside space that could occasionally be used without disrupting the business. If yours does, you could reach out to local organizations and offer your business as a location for their next event.
Look for groups like high school sports teams, nonprofits looking to hold a bake sale, neighborhood yard sales, etc. It's an effective way to open up your doors to the community while showing off your facility!
3. Business Networks
Consider networking with other local businesses in the neighborhood. Not only will you benefit from building better relationships with fellow businesses, but it can also be a way to get help with marketing from both sides.
And don't overlook organizations that were formed for the sole purpose of bringing the business community together. A great place to begin is with your local Chamber of Commerce. Other networking groups that often have local chapters include:
4. Renter Referrals
Your current renters are your property ambassadors. Their support will go a long way in bringing in new clients. It's a great idea to ask them to spread the word within their personal networks.
Make your referral request sincere and approach them at a convenient time. The best way is in person but you could also send a personal message by letter, email, or even by just picking up the phone.
Great renters, who are satisfied with their storage units and your service, will happily recommend your facility.
Revenue Streams That Make Money and Bring in Traffic
1. Package Pick-up/Drop-off
Packing and shipping could be a natural extension to your business and one that attracts not only current customers but others in the area who ship or receive packages.
You can contact and arrange to be a pick-up point with UPS, FedEx, and/or DHL. These carriers offer alliance programs to local businesses and provide the following benefits:
Exclusive packaging pricing and competitive drop-off compensation

Marketing support and materials to promote your store

Customer service that points area customers to your location

Your business address and hours within their online locator
2. Add Retail Sales (boxes, packing supplies, etc.)
Self storage owners that use practical add-on products to their list of services can bring in locals who are looking for those types of supplies.
It's also a move that can increase current customer loyalty. That's because customers view businesses that make helpful suggestions (like "do you need some tape for those boxes?") as providing good service.
Retail sales may be an easy profit booster too. Regardless, it's a great low-risk opportunity to attract more customers.
3. Rental Equipment
Here's another add-on convenience for not only your current renters but one that can bring a lot more people to your business. Not only will potential customers be made aware of your facility, but they'll also get to see it up close.
Two popular rentals that don't take a lot of management are:
Moving trucks or trailers:

Companies like

Budget

are often willing to partner with local companies that can be reliable rental outlets for their trucks.
Propane tanks:

A propane tank company like

AmeriGas

that rents tanks for RV and camping needs also needs resellers.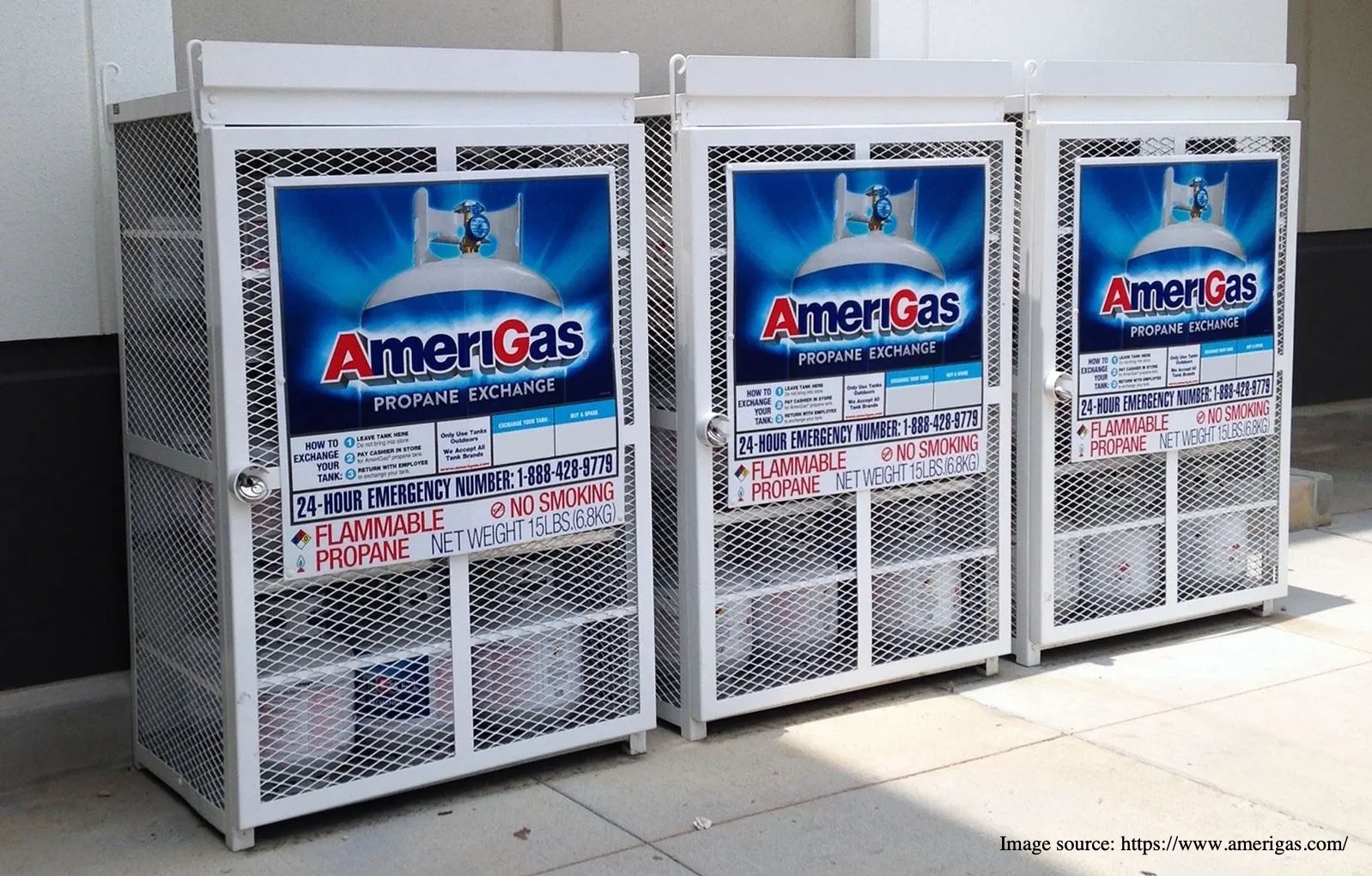 Propane rentals can be a great way to bring more local customers to your business
Self Storage Advertising and Marketing Doesn't Have to Cost A Lot
These easy and affordable advertising and marketing ideas prove you can do more to promote your self storage business than pay for expensive ad campaigns.
But before diving into any of the ideas listed, remember you want to use a simple, consistent message that speaks to your (potential) customers' needs.
When you feel confident about that, you can keep your focus and align your efforts to get the most out of your advertising and marketing.
Make more time for those advertising and marketing efforts above and spend less time managing your self storage business with Unit Trac. Unit Trac is the affordable, cloud-based self storage management software designed by self storage owners like you.