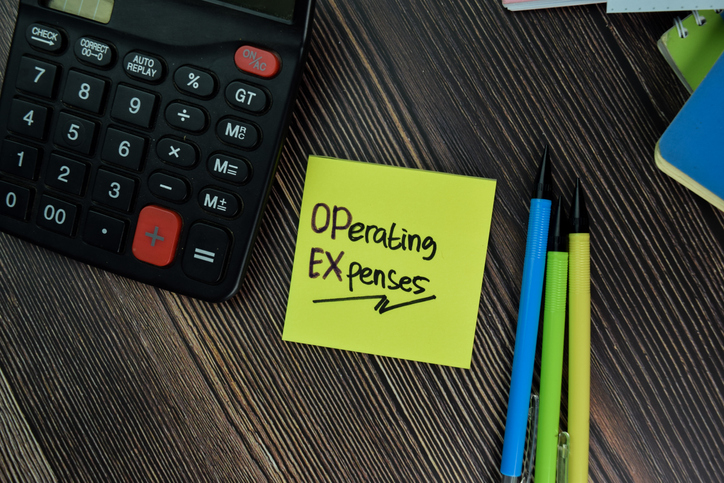 The 5 Biggest Errors in Controlling Self Storage Operating Expenses
Self storage has much lower operating and capital expenses than the average small business and definitely has the potential to yield impressive profits. However, allowing your operating expenses to get away from you could cause your business financial distress.
Staying on top of your self storage operating expenses is just as necessary as finding new customers and serving existing ones. But, if you're like some self storage owners, managing your expenses isn't always your strong suit.
What Counts as Self Storage Operating Expenses Anyway?
Essentially, operating expenses are the costs of keeping your self storage business running, beyond the actual storage buildings, units, and labor. Examples of operating expenses include things like:
Loan payments

Utilities

Property taxes

Business insurance

Software

Credit card processing

Building repair and maintenance

Pest control

Vehicle expenses

Debt collection services

Advertising/marketing

Landscaping
Whether you're new to self storage or you've had your facility open for years, there are plenty of opportunities for errors when it comes to managing your operating expenses.
You can improve your chances of staying ahead by being aware and steering clear of these common mistakes.
1. Forgetting the Startup Costs
Starting a self storage business, just like any new business means upfront costs will be involved. And even though self storage is a relatively simple business to set up, you should track the operating expenses of your business starting from the beginning.
That means taking into account the startup costs as well as the ongoing costs. This includes everything from the cost of forming a business entity to paying for building repairs needed to get you up to code before you open.
"I would recommend that before you purchase, you complete your due diligence," says Nicole Roberts, Customer Support for Unit Trac Self Storage Management Software and the co-owner of San Jose Storage.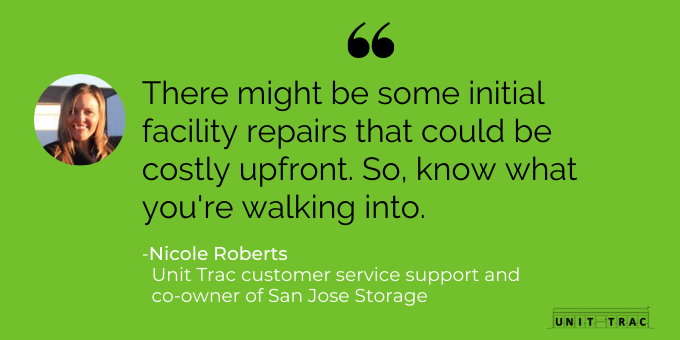 Other startup costs to consider include:
Loan rates and fees (if applicable)

Legal business entity setup costs

Facility and business insurance

Development costs

Security system

Signage
PRO TIP: When you first open your facility, separate your new business calls from personal calls by signing up and using a free Google voice line.
2. Underestimating Simple Marketing Tactics
When you start a new business, you have a lot of energy and excitement. Your instincts may be to invest in traditional marketing so you can fill units fast. But hold on because you may be in for a shock at the costs involved.
Lucky for you, there are ways to market your self storage business that aren't expensive.
Keep it looking great.

Your storage facility will only be attractive to potential renters if your facility looks like somewhere they want to store their stuff. That means to maintain the drive, plant flowers, and make it appealing! This is why curb appeal is a marketing priority.

Building and road signage gets seen!

Part of making your facility look good is to make sure those driving by know what they're looking at and what you offer. A well-designed sign positioned in a prominent spot does the job.

Get your business found online.

By setting up a free

Google My Business

account, you can ensure local internet users know where you are and how to get a hold of you.
To fill units fast, show your units to potential renters with a mobile-friendly website.

It can't be beaten as a means to market your business. It's a crucial part of the overall professional feel of your business and offers your potential clients a peek into what to expect at your facility.
Website design should include:
Contact and facility location

Quality images and/or videos of your site and units

Visibility of available unit sizes and costs

Ability to request or rent a lease online
PRO TIPS:
For additional exposure online, sign up for a

Bing Places

account

Request and promote customer reviews

Don't forget about social media as a cost-effective way to promote your business
3. Neglecting the Maintenance
One of the advantages of owning a self storage facility is that it requires less maintenance than other real estate investments. But that does not mean it requires no maintenance.
Preventive maintenance will need to be an ongoing priority in your mind. Performing routine maintenance on your buildings and each unit is a smart habit to develop and saves you money by lengthening its lifespan.
This is another area where online management software can assist with day-to-day operations. With an interactive facility map like the one Unit Trac offers, you can make notes on what is required for each unit and easily check on it and keep it updated anywhere you have internet access.
PRO TIPS:
Regularly remove all litter from the grounds, including any items left by tenants, such as mattresses, sofas, boxes, etc.

Pull or spray any weeds that have sprung up from cracks in the paving, planting beds, or other areas

Check the site for any damage to the gate, buildings, signage, doors, fencing, lights (doors and gates are particularly vulnerable)

Make sure all exterior lights are working correctly
4. Allowing Delinquent Accounts to Linger
Allowing delinquent accounts to linger eats away at all of your resources. It increases the operating expenses needed to manage your accounts and bites into your profits.
Preventing renter delinquencies and improving rent collection will be one of the best ways to control operating costs and improve cash flow.
Combat any issues before they go on too long and become a problem by doing the following:
Create a secure rental agreement and ensure your renters understand it.

You can check your local

self storage association

for state-specific rental contracts or work with an attorney to draw up one that meets your specific needs.

Collect as much information on the tenant as possible before move-in.

It will be critical to have the most accurate contact information if a tenant stops paying and you have to start the lien process.

Create a way for your renters to pay automatically.

Then encourage them to use autopay from the start. Making paying easy is the best way to ensure your customers pay on time.

Set up a PO Box to collect rent for those who can't use automatic payments.

As an owner, this keeps important documents and payments secure and also keeps your home address private.

Know your state's lien laws before you take action on a unit.

For those who are new to the industry or are moving self storage business to a new state, you'll need to do your research.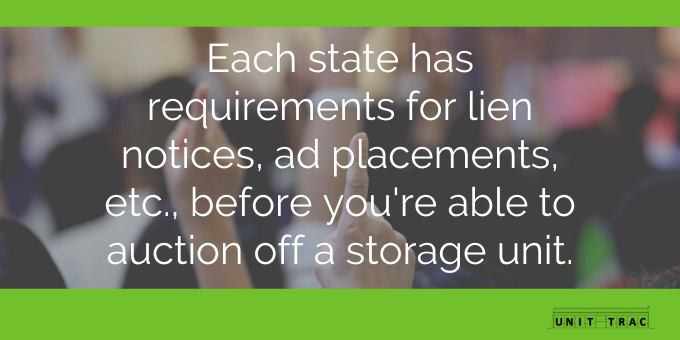 Have a late payment procedure when any late payments do occur.

A written process means your tenants know what to expect, and you know how to handle each situation.

Invest in technology to track and act on delinquent renters.

A good management program is designed to take the pressure off of owners by tracking each unit's payment status.
PRO TIPS:
Put strategies and tools in place before delinquency happens

Start with a friendly reminder before your renter's grace period is up

Establish a good relationship with your renters - make communication a priority
5. Overlooking Unexpected Expenses
Of course, even the best-laid plans can go awry. That's why it's critical to any small business to plan for a "rainy day" by saving for it.
Consider your mortgage payment, staff and vendor costs, and all the other monthly expenses that you have to make. Then, you should make sure you have money saved to back it up. This is especially important to cover those months when rental rates don't happen as you anticipated.
You shouldn't feel overwhelmed about starting a savings account. Keep it simple and treat it as a regular monthly expense for your business. Before you know it, you'll slowly build out a reserve that'll help your business stay afloat when needed.
PRO TIP: Most experts say six months of operating expenses is ideal for a rainy day fund.
Take Control of Your Operating Expenses by Maintaining a Budget and Tracking Revenue
Not knowing where you're spending your money is one of the biggest mistakes any business can make when it comes to operations. That's why you need to have a budget in place. The good news for self storage owners is that it doesn't have to be complicated.
Create a budget that includes all of your controlled operating expenses. Don't forget operating costs like utilities, upkeep, credit card fees, technology updates, and insurance. Your business plan can help you control and prepare for these costs.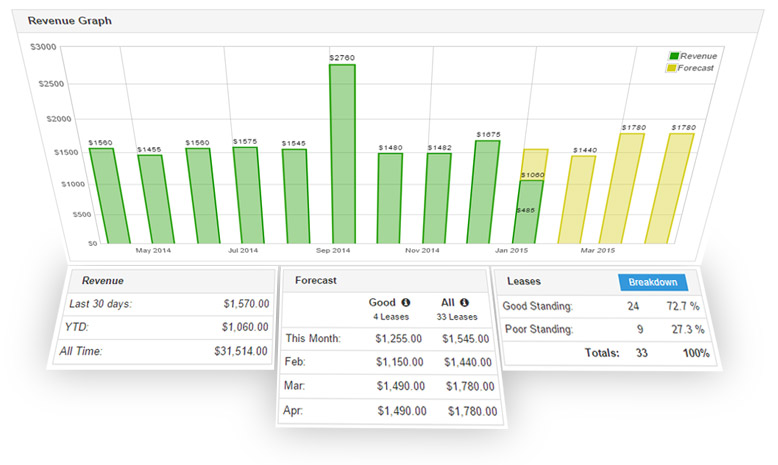 Revenue reports like the one offered within the Unit Trac software will help you make better strategic business decisions by showing you long-term trends
By using an affordable management software designed especially for self storage businesses, you'll have the information you need to keep that budget balanced. Most include reports that allow you to track financial projections so you can plan for next year and keep operating expenses under control.
It's Up to You to Manage Your Money Well
It's clear that operating expenses account for a significant portion of what self storage owners' worry about the most: the costs incurred as part of doing business.
Successful first-time self storage owners will be those who can manage costs well. That means it boils down to keeping expenses low and spending only on things that grow your business. By following that advice, you and your self storage business will be set to not only do well but also grow well into the future.
Learn more about the cost-effective solution that can help you manage your self storage business. Unit Trac is cloud-based software that's designed by self storage owners for self storage owners just like you.