R and B Storage Triples Business Using Cloud-Based Management System
As most startups do, R and B Storage began their business using a paper accounting ledger. However, they feared it would quickly become a labor-intensive nightmare as their business grew. Switching to Unit Trac's cloud-based management system not only tamed their paper beast but unleashed their business's full potential.
It Started with the Family Farm
About 12 years ago, Rob and Renee Huschen were looking around for investment opportunities near their hometown of Roanoke, Illinois. One option they were considering was a storage facility owned by Rob's cousin, who had built it on a part of his great grandfather's farm in 1995.
"From the main building, you could see the farmhouse where my grandmother grew up and was born," Rob says.
Luckily his cousin was ready to move on from the business, so Rob convinced him to sell it to him and his wife. "They thought I was a bit crazy," Rob laughs. "He told me it was a business that would take up all of my time."
Rob and Renee Huschen, Co-Owners of R and B Storage
Despite the warnings, they established R and B Storage. They set it up using a traditional paper ledger system to manage the accounting and rental process. Soon after, the couple started to think that maybe Rob's cousin was right: The storage business was a lot of time-consuming work.
Fortunately, Renee quickly smoothed out the kinks and was able to get by with her paper ledger. But that system wasn't scalable, and Rob was itching to increase business.
Challenge: Growing Pains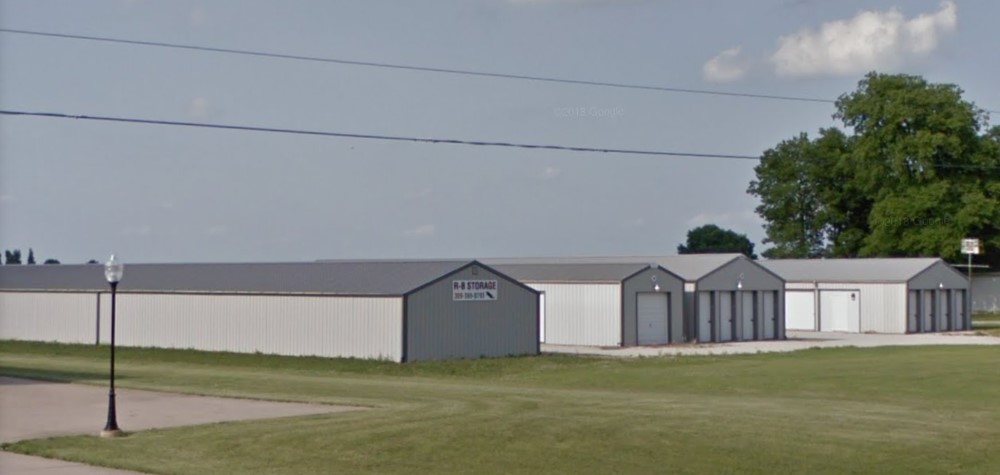 To grow the business and still cope with the demands of their full-time lives, Rob and Renee realized they were facing several challenges:
1. Not enough time in the day to take on new customers
"I couldn't let an investment business like our self storage facility take away too much time from my current career because that's where my focus and my energy had to be," Rob says.
To accomplish their financial goals and plan for retirement, his philosophy has always been to invest in revenue-generating outside sources. Self storage seemed to be the perfect business opportunity for that. But, he knew they'd need to expand to maximize the potential.
2. A labor-intensive accounting system
The first units filled up fast. Their customers were happy, and it showed because they stayed. However, it took all of their time to maintain the accounts and manage the units. Even though it was working, Rob and Renee wanted a new system that would free up time.
Renee didn't want anything overly complicated. She felt comfortable with their paper ledger and knew how it all worked. Rob pushed for automation, knowing that "if I'm going to expand, I need help. I need to think outside the box and look at other options."
3. Inability to Be Two Places at Once
Juggling his full-time job while physically showing units, collecting payments, and handling tenants' requests was a big headache for Rob.
"Our facility was over 25 miles away, and I had to run over there to get contracts signed or if somebody had a problem or other issue," he says. He felt with their current structure that growing the business wouldn't be a reality anytime soon.
Solutions: An Online Accounting and Management System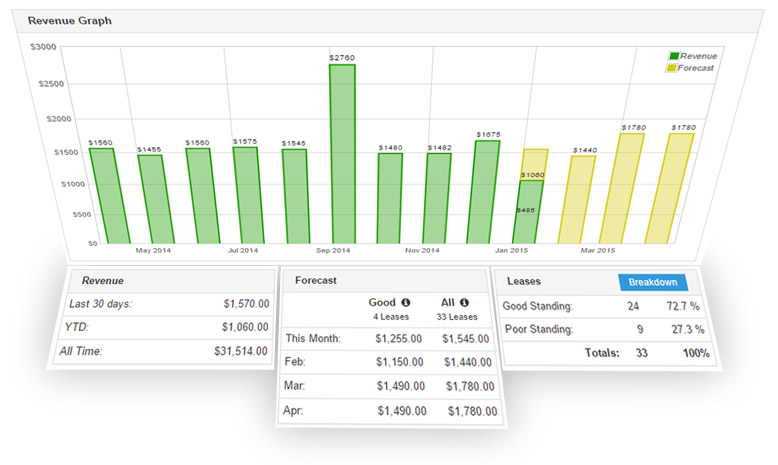 Rob and Renee began exploring other systems to accomplish their goal of growing their business. Rob heard of Unit Trac from another local self storage facility owner and decided to call for a demonstration.
It took some convincing to get Renee on board, but when she saw the software in action she was sold. After the decision was made, neither one of them felt the need to look back. The couple credits Unit Trac for the following:
1. A Smooth Integration from Paper to Digital
When they decided to take the leap, Nicole Roberts, Unit Trac's sales and support person, sat down with them. She walked them through each part of the set-up process.
Together, they mapped out the facility and how many units were in each one. Soon, they had put most of the information in the system, and Rob says "it just all started coming together."
The couple was delighted in all the help they received from Nicole and the entire Unit Trac team. Renee now considers herself a superuser of Unit Trac. She enters all the bills and invoices and Rob creates the contracts. They continue to be impressed with how smoothly it all works.
2. Online Exposure That Helps Sell Units
A popular feature of Unit Trac is its custom websites, which are available for all users. The sites automatically update to show available unit counts, current pricing, and other information.
When R and B Storage signed on to Unit Trac to manage its facility, they wasted no time setting up a custom site. They included the business logo, a Google directional map, a short bio, and links to their other facilities.
"Now, I can go in there, and my customers can use smart technology to rent a unit. It makes it easy to see what units are available, and the site stays current, so I don't have to keep it updated." - Rob Huschen, Co-Owner R and B Storage
3. Ability to Show Unit Status from Anywhere
Unit Trac's interactive facility maps create a real-time visual of the self storage facility's units. It's a service available to any user, and it's one of Rob's favorite features.
"I've been on vacation. I've been driving down the road. I've been anywhere from Texas to California, and I'm still able to see what I have, which means I'm always ready for the next customer that calls."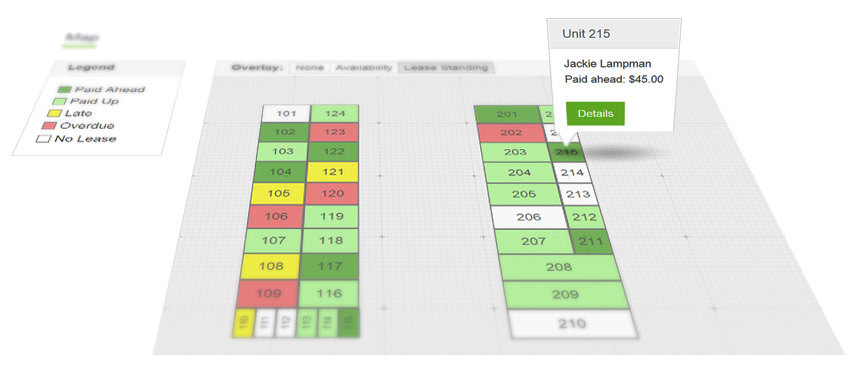 Facility owners can bring the map up and get an accurate visual that shows them where they have units available or coming available the lease status of any given unit.
Results: Business has Tripled, More Growth is on the Horizon
Thanks to Unit Trac self storage management software, R and B Storage has been able to increase its portfolio with enviable results, including:
1. A Faster Lease Sign-up Process with a Personal Touch
The software allows you to initiate an automated email straight to a potential customer with only a few clicks. Then they can sign a lease online using eSignature technology.
"I can take a phone call, and I can create a lease for people and get them into the unit within five minutes now that we have Unit Trac," Rob says.
Other features that make his life easier are the ability to prorate the rent, collect deposits, check that the correct amount of money has been deposited, and even email a thank you note.
It also allows owners to store a variety of documents within the system. Along with the necessary paperwork, Rob stores welcome packets to send to each new customer. Rob says it "creates that small-town touch" that his renters love.
2. 85% of R and B Storage Customers Use Auto-Pay
Unit Trac gives unit renters a way to auto-pay their rent. This means fewer missed payments and increased cash flow for the facility owners.
R and B customers can pay using debit or credit cards directly into Unit Trac when rent is due. Rob and Renee see the money coming into their account on the first of every month with no hassle and all in real-time.
Rob says that when he signs up a new customer, most want to auto-pay when they hear it's an option. For customers who are more the old school type, it only takes a brief explanation to convince them to give it a try.
"After the first couple of months of doing it, they say, you know what? I like having this on automatic payments. They all continue. I got at least 85% of them on that now. It's so simple."
3. The Addition of Two Additional Facilities with More on the Way
Because managing their self storage facilities had gotten so convenient using Unit Trac, Rob thought it might be time to build another set of buildings. With that in mind, he asked Renee how her stress levels were and if she'd be up for expanding.
Luckily, she replied that her stress levels were "really not that high anymore" and was just as excited to see the business grow. They added two more buildings that filled up with occupants right away. The addition doubled the size of their facility and boosted their confidence to purchase a second facility soon after.
"I only spend two or three hours a month on managing the storage business now that I have Unit Trac," Rob says. He and Renee hope to add yet another facility and are not worried about the extra workload because of how painless it is to add units and customers into the system.
A Straightforward Business Solution
R and B Storage began working with Unit Trac in 2015, and both Rob and Renee feel it was one of the best business decisions they ever made.
Now, he loves the business so much that he encouraged his young, son-in-law Benjamin who lives in Iowa, to start one too. But, of course, Rob told him he had to use Unit Trac if he did. "I actually demonstrated it to him and showed him how easy it is."
Rob proves that self storage facility owners come from all walks of life, backgrounds, and varying portfolios. Some have established businesses, while others are looking for a career change like his son-in-law. Every story is unique, but one thing is consistent: they are all looking to maximize their time and investment.
Unit Trac was designed with that in mind.